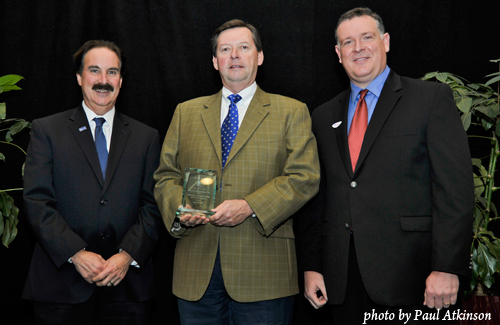 University of Kentucky and College of Arts & Sciences alum Kip Cornett (B.G.S., '77) was recognized on National Philanthropy Day, November 8. Cornett is the president and owner of Cornett Integrated Marketing.
The College of Arts & Sciences was one of twenty-two organizations to honor their top philanthropists at the annual National Philanthropy Day, organized by the Association of Fundraising Professionals. Also honored were this year's Distinguished Philanthropist, James E. "Ted" Bassett III, and Virginia Newsome received the Youth in Philanthropy Award.
The event was sponsored at the platinum level by the University of Kentucky.  The silver sponsors were KCTCS, Kentucky Blood Center, and Transylvania University.  Bronze patrons included Blue Grass Community Foundation, Global Advancement, Progressive Marketing, and United Way of the Bluegrass.  Friends included Doug Smith Designs, Pat Byrne Printing, and Paul Atkinson, Rockledge Photography and Design.  Tom Leach served as emcee.  Remarks were given by David Cupps as President of the Bluegrass Chapter of APF, and by Lexington Mayor Jim Gray.  Rev. Nancy Jo Kemper, Interim Associate Dean of Interreligious Life for Transylvania University gave the invocation.  For more information about National Philanthropy Day visit afpbluegrass.org, contact Susan Ware at (859) 276-4404 or e-mail sware@hospicegb.org.
The Association of Fundraising Professionals (AFP) represents 30,000 fundraisers in more than 197 chapters throughout the world, working to advance philanthropy through advocacy, research, education, and certification programs.  Established in 1985, the AFP Bluegrass Chapter includes more than 120 members representing a wide variety of non-profit organizations and fundraising expertise throughout Central and Eastern Kentucky.  For more information, visit www.afpbluegrass.org.
photo from left - Dean Mark Kornbluh, Kip Cornett, and David Cupps, president of the Bluegrass Chapter of AFP