By Allison Elliott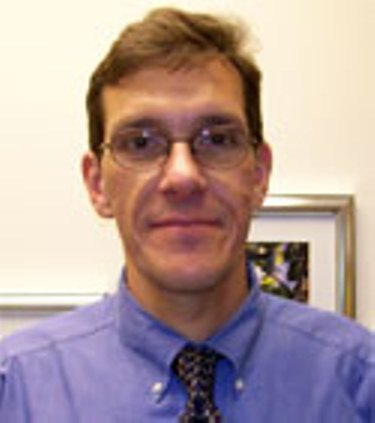 Mark Lovell, a researcher for the University of Kentucky Sanders-Brown Center on Aging and a member of the faculty in the UK College of Arts and Sciences Department of Chemistry, has been named the Jack and Linda Gill Arts and Sciences Research Excellence Fund Professor in Chemistry.
Lovell, a native of Kentucky, holds a bachelor's degree from Berea College and completed his doctorate at UK. He served as a postdoctoral scholar at Sanders-Brown before accepting a permanent appointment to the university faculty.
"I am delighted that Professor Lovell is being recognized for his important contributions to our understanding of some of the basic processes that underlie neurodegeneration.  His work is the important, fundamental science that is needed for clinical advances in diagnosis and treatment of a large class of human diseases that plague a growing section of our population," said Mark Meier, chair of the Department of Chemistry.
"Dr. Lovell is a valuable member of our faculty and well deserving of this honor," said Linda Van Eldik, director of the Sanders-Brown Center on Aging.
In the lab, Lovell focuses on the role of oxidative stress, particularly DNA and RNA oxidation, in the pathogenesis of neuron degeneration in Alzheimer's disease brain. He has also been involved in efforts to develop and commercialize a diagnostic test for Alzheimer's disease based on biomarkers in cerebrospinal fluid and in the development of potential therapeutics for AD. In addition to an extensive research and publication record, Lovell continues to teach and mentor UK students.