By Whitney Hale, Erin Holaday Ziegler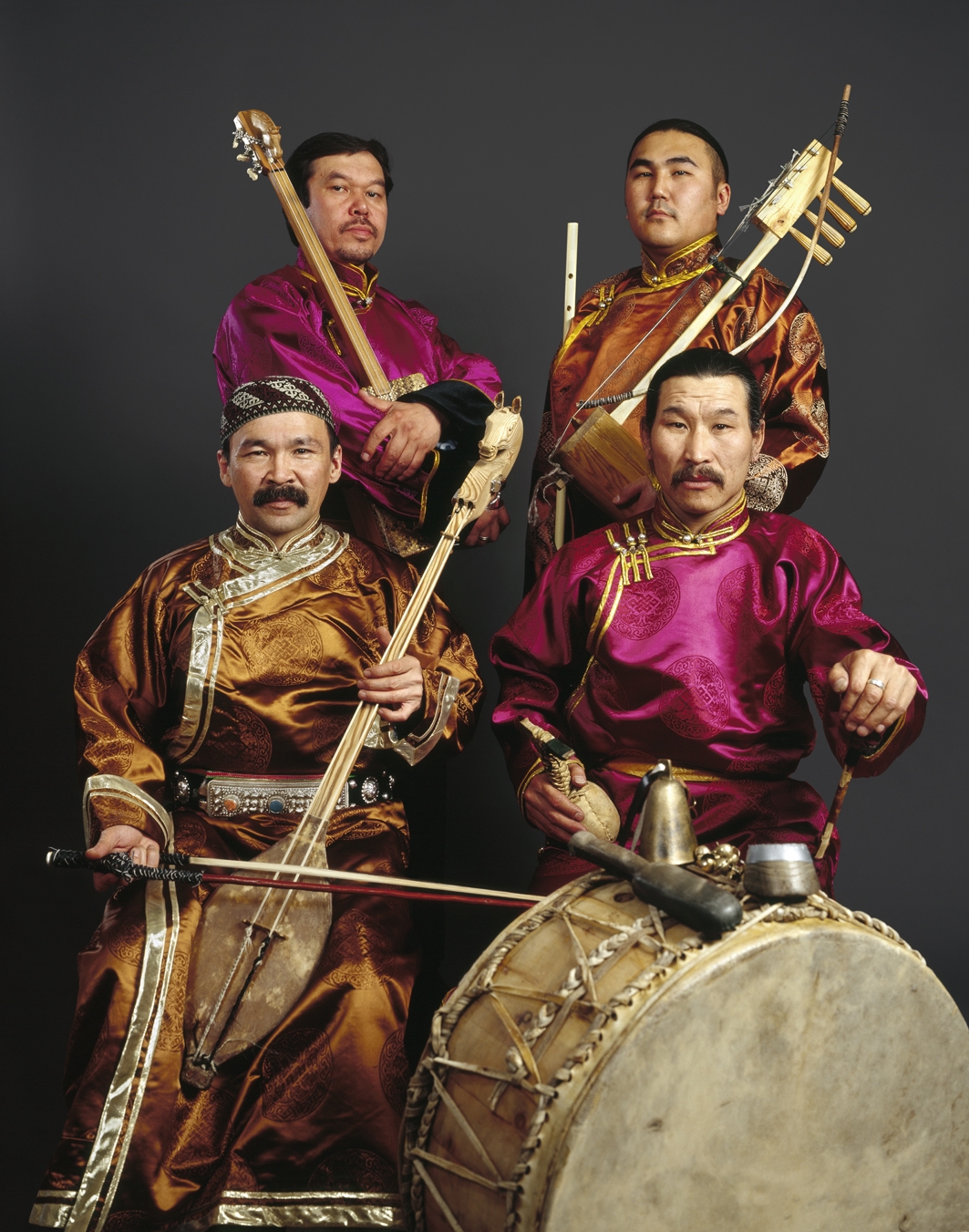 Bluegrass audiences can learn more about the art of throat singing, a form of overtone singing practiced by the Tuva people of southern Siberia, at several events being presented at the University of Kentucky this week. Arts patrons can take in a lecture, demonstration and concert by the renowned Tuvan acoustic quartet Huun Huur Tu centered on the art of throat singing as part of the 2011 ArtsAsia Festival.
On Saturday night, Oct. 8, Huun Huur Tu will take the stage at the Singletary Center for the Arts for a concert. The descendants of isolated Siberian herdsmen make serious, strangely universal music out of some of the planet's quirkiest acoustics. Using traditional instruments and drawing subtly on 20th century composers, funky rhythms, and the palette of electronica, Huun Huur Tu transform ancient songs into complex acoustic compositions.
Beginning 17 years ago, Huun Huur Tu almost single handedly introduced the Western world to a wealth of Tuvan traditions, thanks in great part to their superior musicianship. Hailing from the high pastures of the Altai Mountains in south central Siberia, the musicians have spent decades honing the overtone singing, instrumental approaches, and vibrant songs of their home.
The group also has made groundbreaking traditional recordings that put their home on the map and wowed audiences in North and South America, Europe, Asia, Australia and Africa. Huun Huur Tu is credited with sparking a boom in Tuvan and other throat singing, lute strumming ensembles from Central Asia that have become the mainstays of global music festivals.
To see a performance of "Chiraa-Khoor" by Huun Huur Tu, visit PlushmusicTV's YouTube channel online at: http://youtu.be/-bDntRWfL70.
Tickets for the Huun Huur Tu concert are $20 for general admission and $15 for students. Processing fees will be applied during the transaction. Tickets can be purchased by calling the Singletary Center ticket office at (859) 257-4929, visiting online at www.singletarytickets.com, or in person at the venue.
In preparation of the Huun Huur Tu concert, the UK Division of Musicology and Ethnomusicology at the UK School of Music will present a talk on the spiritual connections made through music, such as throat singing, by scholar Theodore Levin, of Dartmouth College. "Music and the Spirit World in Central Asia and Siberia" will be given at 3:30 p.m. Friday, Oct. 7, at the Niles Gallery, at the Lucille C. Little Fine Arts Library and Learning Center. The lecture, which is free and open to the public, is also part of the Rey M. Longyear Lecture Series at UK School of Music.
Theodore Levin is a longtime student of music, expressive culture and traditional spirituality in Central Asia and Siberia. His two books, "The Hundred Thousand Fools of God: Musical Travels in Central Asia" and "Where Rivers and Mountains Sing: Sound, Music, and Nomadism in Tuva and Beyond," are published by Indiana University Press. As an advocate for music and musicians from other cultures, he has produced recordings, curated concerts and festivals, and contributed to international arts initiatives. During an extended leave from Dartmouth, he served as the first executive director of the Silk Road Project, founded by cellist Yo-Yo Ma. Currently, Levin serves as senior project consultant to the Aga Khan Music Initiative, and as chair of the Arts and Culture sub-board of the Open Society (Soros) Foundations.
Levin's research and advocacy activities focus on the role of arts and culture in promoting and strengthening civil society in countries where it is endangered or still emerging. He is presently working on a book on culture and development in Asia, writing and editing a textbook on the music of Central Asia for university students in the region, and completing a 10-volume CD-DVD series, "Music of Central Asia," released by Smithsonian Folkways Recordings. At Dartmouth, Levin teaches courses on ethnomusicology and world music, sacred music in East and West, and an interdisciplinary course on the Silk Road offered through the Asian and Middle Eastern Studies Program.
Levin will join vocal Sayan Bapa of Huun Huur Tu Saturday afternoon for a throat singing demonstration. The demonstration, which will include a discussion and demonstration of throat singing techniques, as well as other aspects of the music of Huun Huur Tu, will be presented 3 p.m. Saturday, Oct. 8, at the Briggs Theatre, in the UK Fine Arts Building. The demonstration is free and open to the public.
Sayan Bapa, the child of a Tuvan father and Russian mother, grew up in the industrial town Ak-Dovurak. He received his musical training in Kislovodsk, Northern Caucasus, where he played fretless bass in a Russian jazz-rock band for several years. In the early 1990s, Bapa returned to Tuva to study his roots, and became a member of a folk-rock band, performing traditional Tuvan music on electric instruments. A co-founder of Huun Huur Tu, Bapa is a versatile string instrumentalist, and performs on the doshpuluur, igil and acoustic guitar. As a vocalist he is currently specializing in the kargyraa style.
The ArtsAsia Festival, which is organized by the UK Asia Center and the UK College of Fine Arts, draws top-caliber performers, artists and scholars to UK and Lexington venues, showcasing the region's diversity with world-renowned performances, celebrated scholars, and fascinating visual arts. This year's events include Chinese theatre, throat singers from Tuva and dance from India and Japan. Learn more at www.uky.edu/centers/asia.