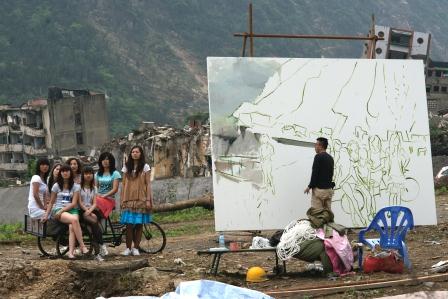 The University of Kentucky's ArtsAsia Festival breaks new ground this year with a two-day conference on Chinese art, design, film and architecture.
The ArtsAsia Festival's annual academic symposium, titled "Contested Ground: Visual Culture in China after 1989," takes place Oct. 14-15 on UK's campus.
The symposium keynote lecture by Eugene Wang, the Abby Aldrich Rockefeller Professor of Asian Art at Harvard University, will take place at 5 p.m. Friday, Oct. 14, in the Singletary Center for the Arts President's Room.
Wang will discuss "After-Shock and After-Image: A Chinese 'Neo-realist' Painter's Engagement with the Real in the Postmedium and Post-Earthquake Situation."
According to Wang, a new dilemma confronts the Chinese "neo-realist," painters who came of age in the 1990s. These painters distanced themselves from previous generations by abandoning what they viewed as grand narratives and contrived social-political dramas. Known for their focus on the margins of society and the raw and ephemeral states of personal experience, these artists remained detached from their work in the real world.
After witnessing the ravaged landscape of massive construction and destruction, how do they engage earthquake-devastated people and landscape? In this day and age when documentary camera could presumably capture everything, what is left for the painter to do on location? Wang will discuss the relevance of "realistic" painting in the post-medium age.
A 2005 Guggenheim Fellow, Wang's book, "Shaping the Lotus Sutra: Buddhist Visual Culture in Medieval China," received a Japanese academic achievement award. He's published on a wide range of topics, including ancient Chinese bronzes, tombs, sarcophagi, Dunhuang cave murals, reliquaries, landscapes, scroll paintings, calligraphy, woodblock prints, photography and films. Wang's current research interests explore the shifting boundaries of interiority/exteriority in ancient Chinese imaginary bridging of body and cosmos, the "montage" of performative images in Buddhist art of meditation, the pictorial art of the ineffable and modern/contemporary Chinese art and mediality.
Since 1989, China has witnessed tremendous social, economic and cultural transformations," said UK Associate Professor of Art History and symposium organizer Anna Brzyski. "Those dramatic changes have left an indelible mark on the country's visual culture, including its arts, films, museums and architecture. One of the main goals of the symposium is to focus on China's most recent history in order to examine the richness and complexity of those forms."
The symposium, featuring six distinguished scholars of Chinese visual culture from the U.S. and China, will take place from 9:30 a.m.-5:30 p.m. Saturday, Oct. 15, at the Briggs Theater in the UK Fine Arts Building. Participants will discuss the following topics:
·         The film art of Chinese independent art-house film director Jia Zhangke
·         The exhibition installations at the Dafen Art Museum in Shenzhen, China
·         Transnational architecture in China in the era of globalization
·         The diversity of art forms in today's China
·         The history of Chinese art museums
·         Documentary artist Wu Wenguang and the ethics Chinese independent films
The symposium will conclude with a round-table discussion of contemporary Chinese visual cultures. The full symposium schedule is available here.
Symposium participants include:
·         Delin Lai, assistant professor of art history, University of Louisville
·         Sheldon H. Lu, professor of comparative literature, University of California at Davis
·         Xuefei Ren, assistant professor of sociology and global urban studies, Michigan State University
·         Chunchen Wang, head of the Department of Curatorial Research of Central Academy of Fine Arts (CAFA) Art Museum, Beijing
·         Gan Zhang, professor of art history and vice chair of the Art History Department, Tsinghua University, Beijing
·         Yingjin Zhang, professor of Chinese literature and film, comparative literature and cultural studies, University of California-San Diego
"Contested Ground: Visual Culture in China after 1989," co-sponsored by the UK College of Fine Arts, the UK Department of Art, the UK College of Arts & Sciences and the UK Confucius Institute, is a part of the third annual ArtsAsia Festival, which runs Oct. 2-18. 
The ArtsAsia Festival, which is organized by the UK College of Fine Arts with assistance from the UK Asia Center, the UK Confucius Institute and other university and community partners, draws top-caliber performers, artists and scholars to UK and Lexington venues, showcasing the region's diversity with world-renowned performances, celebrated scholars, and fascinating visual arts. This year's events include Chinese puppet theatre, throat singers from Tuva and dance from India and Japan. Learn more at www.uky.edu/centers/asia.