Student Employee Spotlight -- Introducing Lori Johnson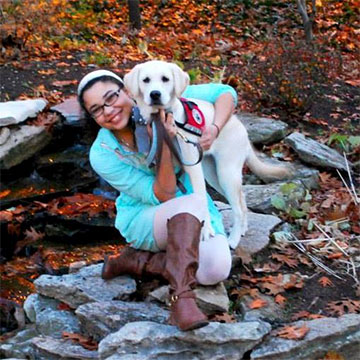 Hey y'all! I'm Lori Johnson and I'm junior from Louisville, KY! I'm studying Integrated Strategic Communications, and Community Leadership and Development; I know it's a mouthful, but thankfully they're two different majors! I'm also getting a certificate of Global Studies. Choosing where to go to college was a tough choice, but in the end my Big Blue Nation won out. The incredible sense of spirit and community is what really sealed the deal for me, everywhere you go, you see blue! It also didn't hurt that my dad was also a Wildcat and I get to continue that tradition. Being a student at UK has given me the most amazing opportunities. I get to be in a great campus ministry, active in meaningful organizations and I have a really awesome job!
One of the coolest things I've been able to do while at UK is participate in study abroad. I spent my fall semester in Valencia, Spain and it was such an enriching and life-changing experience. Another really amazing opportunity I've had at UK is working with 4 Paws for Ability as a college foster for service dogs in training. You know those sweet, adorable, fluff balls in red vests you see walking around campus? That's us! I've had two fosters so far, Juniper and Zipper and boy have they taught me some tough lessons.
Once I graduate I want to work in the non-profit world, hopefully mixing my PR skills and leadership knowledge. I'm still deciding if I will get my masters before embarking on that journey, there are still so many options for me to pursue. I've been so lucky to have an education that is interdisciplinary, and provides me with so many possibilities.
I work in the Department of Chemistry, and even after a year and a half I can honestly say I love my job. I get to work in a professional environment where there is a lot expected of me, but I'm also able to learn and strengthen skills that I just wouldn't get outside of an office setting. Plus, I get to work and interact with people that have so much more life experience than me, including some of our brilliant professors! My supervisors and co-workers are extraordinary and I'm incredibly grateful to work with them. Being a student worker is really the best job I could have right now, and I wouldn't trade this experience for anything!