by Sarah Geegan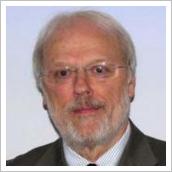 UK Chemistry professor Allan Butterfield was recently announced as the newest Fellow of the Society for Free Radical Biology and Medicine (SFRBM ) at the 19th Annual Meeting of SFRBM in San Diego.
Butterfield is the UK Alumni Association Endowed Professor of Biological Chemistry; director of the UK Center of Membrane Sciences; director of Free Radical Biology in the Cancer Shared Resource Facility of the UK Markey Cancer Center; and a faculty member of the Sanders-Brown Center on Aging. His election as SFRBM Fellow was based on his outstanding contributions to the field of free radical chemistry, redox biology and antioxidants.
"I am pleased that my peers in the field of free radical biology and medicine have recognized our laboratory's NIH-funded research on the free radical damage in brains of subjects with Alzheimer's disease and other neurodegenerative disorders," Butterfield said.
Free radicals are created when a molecule has one or more unpaired electrons. According to Butterfield, this makes free radicals extremely reactive, causing them to attach onto other electrons.
"If that happens in the brain, as in Alzheimer's, then really terrible oxidative damage happens to the brain," he explained. "The consequence of free radical damage is called free radical biology. If it's applied to the disease state – which is what we do – it's free radical biology and medicine."
One of the primary research interests of SFRBM members is an increased understanding of how aging is affecting people and what free radicals have to with nutrition and health.
There are only other 27 other Fellows of SFRBM worldwide, bringing Butterfield into an elite group. This distinction has not been lost on him.
"The peer recognition of being elected a fellow was just wonderful," Butterfield said. "This is the kind of recognition that really brings a lot of visibility not only to me and my students and my post-docs, but also to the Chemistry Department and the College of Arts & Sciences and the whole university."
"It's fair to say none of this would have happened without having incredibly talented people in my laboratory and having outstanding collaborators over 37 years of being here at UK. It's been a great honor and privilege to be here at the university, to mentor and train the people in my lab, to see the wonderful work they do and to collaborate with excellent sciences here at UK and elsewhere."