By Erin Holaday Ziegler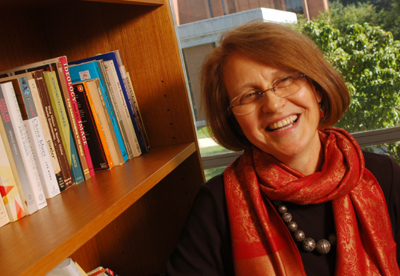 The University of Kentucky's College of Arts & Sciences welcomes an internationally renowned filmmaker to campus next week to discuss the history and memory of China's Cultural Revolution.
Sociology professor Keiko Tanaka will show scholar and filmmaker Carma Hinton's award-winning documentary, "Morning Sun," to UK's "Passport to China: Global Issues & Local Understanding," class at 5 p.m. Tuesday, Oct. 25, in Room 118 Classroom Building.
Hinton will join Tanaka's class at 5 p.m. Thursday, Oct. 27 for a discussion of the film. Both the film viewing and the discussion are open to the public.
"We are fortunate to have such a wonderful opportunity to hear a renowned director and great public speaker discuss her film in person," said assistant professor of Chinese literature and culture Liang Luo. "As the leading documentary filmmaker on China active in the English-speaking world today, Carma Hinton is uniquely privileged with both an insider's and an outsider's perspective, born to American parents and growing up in China during the Cultural Revolution."
Hinton was born in Beijing and lived there until she was 21. Chinese is her first language and culture. Together with Richard Gordon, Hinton has directed 13 documentary films about China.
Hinton is a scholar as well as a filmmaker. She has a doctorate in art history from Harvard University and has held teaching positions at Swarthmore, Wellesley, Northeastern and MIT. In addition, she has lectured widely on Chinese culture, history and film at educational institutions, both in the U.S. and around the world.
Her films have been shown in numerous film festivals worldwide, including New York, Berlin, Hong Kong, Vancouver, and San Francisco. They have also been screened at the Film Forum in New York, the Museum of Fine Arts in Boston and the Smithsonian Institution in Washington D.C., among others, and broadcast on television stations around the world, including PBS, the BBC and ARTE.
Awards received include two George Foster Peabody Awards, the American Historical Association's John E. O'Connor Film Award, the International Critics Prize and the Best Social and Political Documentary at the Banff Television Festival and nominations for Best Documentary Feature by the National Film Board of Canada, the ABCNEWS VideoSource and Pare Lorentz Awards by the International Documentary Association and a National News & Documentary Emmy Award.
"Morning Sun" is a psychological history of China's Great Proletarian Cultural Revolution, which took place from 1964-1976. The film provides a multi-perspective view of a tumultuous period as seen through the eyes — and reflected in the hearts and minds — of members of the high-school generation that was born around the time of the founding of the People's Republic of China in 1949, to which the director herself belongs.
Hinton is one of many visitors to Tanaka's A&S 100 course. The director of the UK Asia Center and faculty director of UK's Year of China is teaching a two-hour undergraduate class, titled "Passport to China: Global Issues & Local Understanding," which will be offered in both the fall and spring semesters. The course features a series of film screenings and guest speakers throughout the year.
"Hinton's visit is just one of the many highlights of the 'Year of China' activities," Luo said. "Faculty, students and the general public should be prepared for a feast of Chinese culture offered through public lectures, film screenings, art exhibitions and interactive games this year."
For more information on the College of Arts & Sciences Year of China, please contact Tanaka atktanaka@email.uky.edu or visit the Year of China website at http://china.as.uky.edu/.