by Derrick Meads & Whitney Hale
Five University of Kentucky students have been awarded scholarships administered by the Institute of International Education to support their study abroad goals.
Four of the students received the Benjamin A. Gilman International Scholarship; a congressionally funded scholarship sponsored by the Bureau of Educational and Cultural Affairs (ECA) at the U.S. Department of State and administered by the Institute of International Education.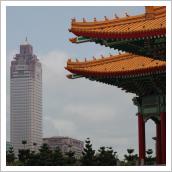 The scholarship supports students who have been traditionally under-represented in study abroad, including but not limited to, students with high financial need, community college students, students in under-represented fields such as the sciences and engineering, students with diverse ethnic backgrounds and students with disabilities.
Award recipients are chosen by a competitive selection process and must use the award to defray the cost of tuition, room and board, books, local transportation, insurance and international airfare.
Sophomore Byron Giles, a Lexington native who is majoring in computer engineering, received the Freeman-ASIA Award to fund an exchange program at Nagoya University in Japan.
The Freeman Foundation, which sponsors the Freeman-ASIA award and is administered by the Institute of International Education, works to strengthen the bonds of friendship between the U.S. and countries of East Asia. 
"International study gives students the attitudes, skills, and knowledge to be competitive and successful in the global economy," says Summer Eglinski, education abroad adviser. "Students who are under-represented in study abroad have the unique chance to educate their peers and communities about the value of education abroad — a resource that otherwise may have seemed unattainable or unnecessary because of their major, finances or background."
Kamacharov is looking forward to learning more about the Austrian economy and its relationship with the European Union, while experiencing the local culture and meeting local people. "I believe that by studying abroad, I can prove to potential employers my maturity, responsibility and dedication; it's an opportunity to prove I am ready for the real world, ready to face real world challenges," Kamacharov said.
Flamm believes this experience will help her relate to people with diverse views. "I hope to gain a better understanding of people and how to relate to every sort of person. As I hope to become a doctor, I believe that this is extremely important and can only help me help others in the future."
Students who are interested in the Gilman Scholarship should contact an EA adviser and attend the Gilman Writing Workshop 3–7 p.m., Feb. 5, 2013, in the Hub at William T. Young Library. Email Corrine Doxey for more information: corrine.doxey@uky.edu.
The deadline to apply for the Gilman Scholarship for fall 2013 is Tuesday, March 5, 2013, and students who are interested in these opportunities are encouraged to begin working well in advance of the scholarship deadline.
Students who are interested in this and other study abroad scholarship opportunities should also contact Pat Whitlow, director of the UK Office of External Scholarships. The Office of External Scholarships (OES), part of the Division of Undergraduate Education, assists current students and recent alumni in applying for scholarships and fellowships funded by sources outside the university. Specifically, OES helps students strengthen an application and develop a personal statement, among other preparation activities for the scholarship application proces