Glazer research group's work highlighted on the back cover of the European Journal of Inorganic Chemistry
A research study performed by Dr. Dmytro Havrylyuk, Dr. David Heidary, Leona Nease, Dr. Sean Parkin, and Dr. Edith Glazer was profiled on the back cover of the journal The European Journal of Inorganic Chemistry for a special cluster issue titled "Metal Anticancer Complexes – Activity, Mechanism of Action and Future Perspectives".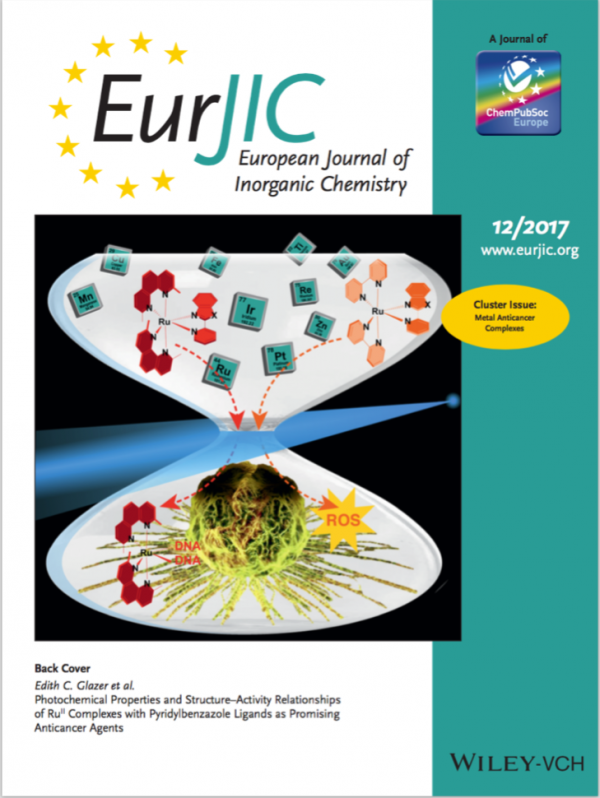 From the description of the cover art: "This cover feature shows a selection of inorganic elements that are used in new anticancer agents described in this cluster issue. The hourglass symbolizes the time-sensitive nature of chemotherapy treatment as well as the spatial and temporal control achieved with light-activated compounds. The strained complex on the left can eject a ligand to form covalent adducts with DNA, while the unstrained complex on the right generates ROS. In both cases pyridylbenzazole ligands (X = CH, NH, O, S) were explored to identify the most potent anticancer agents. Details are discussed in the article by E. C. Glazer et al. on page 1687 (DOI: 10.1002/ejic.201601450)."