When Sam Powers travels, he buys a one-way ticket. He prefers it that way - as he searches for "Goat man" in Guatemala or participates in Buenos Aires's annual pillow fight or motorbikes through Vietnam's Ha Long Bay, he wants the people he meets, not a return ticket, to determine his schedule.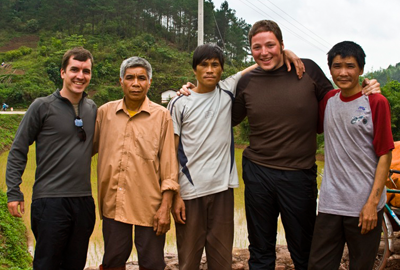 In the past year, Powers has purchased quite a few one-way tickets, tickets that have taken him to 15 countries outside of the United States and introduced him to four new languages, including Khmer, Vietnamese, Thai, and Icelandic.
Powers documented his year long journey through his website. Filled with videos, daily travel commentaries, and stunning photography, this website is so recognized internationally, it won Lonely Planet's Travel Blog and Video Blog of the Year in 2009.Media from across the world, including websites dedicated to international travel, "Wandering Educators" and "Tripfilms," have contacted Powers and his travel companion, Lexington native William Reinhard, for interviews.
The website not only captures the amusing stories as Powers and Reinhard traveled the world in one year on an "impossible" budget, but also provides a poignant glimpse at the world's beauty and range of cultures.
Although Powers was a linguistics major at the University of Kentucky, studying languages was not an obvious path. Originally from London, Ky., Powers was introduced to the computer programming software, QBASIC, at an early age. By age seven, Powers was experimenting with his own programs. His love for computers followed him to college when he enrolled in Bluegrass Community and Technical College's Computer Science program. 
Before college, Powers had traveled to Guatemala City several times with Lexington's Immanuel Baptist Church and became aware of the need for computer instruction within the city's schools there.
After only two semesters at BCTCS, Powers decided he needed to move out of his comfort zone and left Kentucky to provide computer instruction at the Guatemala City's Shalom School.
Working in Zone 18, one of the poorest sections of the city known as the "red zone" for the prevalence of gang violence, Powers realized there was "something was very wrong about the comfort he was living in."  He explained that "In Zone 18, kids are stuck in life and death situations every day. They are tough, tough situations. In the US, we have the world's wealthiest people as well as unlimited resources. To use all these resources on ourselves is really a sad thing."
The world suddenly appeared much larger to Powers and he felt a need to embrace cultures that were different from his own. Powers recalled, "I did not want to sit in front of a computer for the rest of my life."  
Powers returned to Lexington and immediately transferred to UK's linguistics program believing that "with every language you learn, there are one million more friends you can make."  
Although he majored in Spanish and German, he also studied African American English from linguistics professor, Rusty Barrett. On a field assignment for Barrett's course, Powers traveled to Beaufort, S.C. to hear Gullah, a Creole language which some believe to be a dialect of African American English. "I really wanted to experience Gullah first-hand, which was a good excuse to take a road trip."
Creating a documentary video of his experience, Powers interviewed the co-director of Beaufort's annual Gullah festival, Rosale Pazant, and discussed Gullah heritage. In this interview, Pazant iterated the importance of preserving the Gullah language, "if people understand cultures of others the better coexistence there will be," she expressed.  
This interview was very significant for Powers. It began his new life course: traveling and experiencing different cultures, learning new languages, and most importantly, documenting his experiences to share with others. 
After graduating from University of Kentucky, Powers continued to work at the web-design company where he had worked throughout his college experience. Restless, each day Powers told friends, "I am traveling around the world if anybody wants to come."  Finally, one day Reinhard said he wanted to accompany Powers on his trip. 
By September 2008, the two college graduates each had a one-way plane ticket to Guatemala and a $10,000 budget. Since Powers knew so much about web design and computer programming, and had also written his own blog for several years, recording the trip through a website seemed like a natural way to document their travel experiences.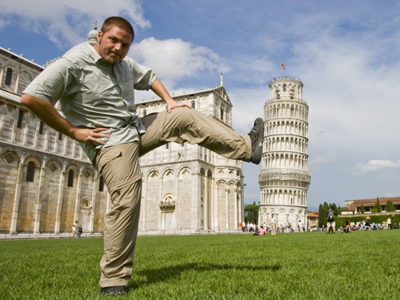 For the majority of the year, Powers and Reinhard updated their website with entertaining stories, such as the first video, "Pre-trip Planning," which talked about the "17-week, six-country underwear" they purchased before departing, as well as more emotional videos such as "Episode 14: Torres del Paine" when Chile's fierce Patagonian climate almost caused Powers to catch hypothermia.Friends and strangers followed the website, filled with anticipation, "would they make it around the world on an limited budget?" and posting comments such as "I feel like I am watching The Travel Channel" or "thanks for bringing me along on the journey." 
Powers is often asked what he learned from his travel experiences. "People make excuses each year not to travel. Next year, there will be ten more reasons. If you are going to do it, do it now!"  Powers said, "Everyone has the potential to impact the world in an influential way."
Although Powers is enjoying being back in Lexington, and working for his own web-design company, SammyK Media, he is already planning his next adventure. This summer he will travel to Thailand to study meditation, and he also has hopes to soon learn Arabic and Chinese. Although does not want to travel for another year long period and miss Christmas with his family, he says he will always document his travels through websites.
As Powers continues to buy one-way tickets, we should stay attuned to his adventures.
His ability to capture the language and voice of the people he meets encourages us all to "travel now!" and reminds us of the world's incredible diversity.
Check out Powers' adventures at www.twoguysaroundtheworld.com
by Kathryn Wallingford