by Erin Holaday Ziegler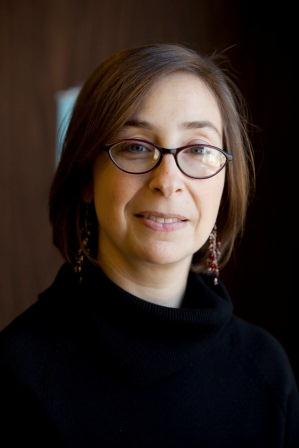 A University of Kentucky biology professor has been chosen as one of 22 Pew Scholars in the Biomedical Sciences for her innovative and groundbreaking retinal research with zebrafish.
Biologist Ann Morris will explore the mechanisms that drive the development and regeneration of retinal photoreceptors over the next four years without restriction.
"The Pew award is meant to give support to early stage investigations that show promise, and I am proud to represent UK in this endeavor," said Morris, whose Pew award is a first for UK in biomedical sciences. "Pew Foundation resources are critical in getting projects going, but also for networking and faculty development."
Many eye diseases that lead to blindness, such as retinitis pigmentosa and macular degeneration, can be caused by the degeneration of rods and cones—the light-sensing photoreceptors that line the retina. One way to treat retinal degeneration and ocular disease would be to supply the eye with healthy rods and cones. But the molecular pathways that create these highly specialized cells in the eye are not well understood.
"Many inherited blinding disorders are incurable," Morris said. "Damaged photoreceptors can't be repaired, but there's a possibility that these cells can be replaced. And unlike mammals, zebrafish have the ability to regenerate retinal neurons."
Previously, Morris identified two proteins that regulate photoreceptor regeneration in the zebrafish, an organism that is capable of replacing damaged rods and cones.
Using genetic and molecular biological techniques, Morris will investigate how these proteins promote photoreceptor renewal and she will understand more fully the process of retinal regeneration in the fish.
"Zebrafish embryos develop rapidly outside of the animal and are transparent, so you can watch eye development under the microscope," said Morris. "We can study this process in fish in a way that we can't in mammals." 
Morris's work could inform efforts to grow mature photoreceptors in the lab that could then be used therapeutically for the treatment of retinitis pigmentosa and other human retinal diseases.
"I would like nothing more than to see clinician scientists use our research to develop therapies," Morris said. "The human eye is a beautiful organ, but it's also complex. Working with zebrafish gives me an opportunity to study the entire organism."
Morris earned a doctorate in genetics and molecular biology from Emory University in 2001. She moved to France for a one-year postdoctoral fellowship at the Institute of Human Genetics and then returned to the United States in 2002 to continue her postdoctoral training at Florida State University.
In 2009, she made the move to UK, in part because of the university's close ties with the medical campus, and her lab has been filled with enthusiastic students since her arrival.
"I've got great graduate students that work really hard," said Morris, who has the only zebrafish lab at UK. "And we have great resources and researchers on the medical side of campus as well. I look forward to finding ways to work together across the university in the future."
The 2011 Pew Scholars will join a select community that includes MacArthur Fellows, recipients of the Albert Lasker Medical Research Award and three Nobel Prize winners.  Research by the new class of Scholars is related to many human diseases ranging from Alzheimer's to diabetes to ocular degeneration. The program encourages early-career scientists to advance research that leads to important medical breakthroughs and treatments.
"Pew is pleased to provide this country's most ambitious and dedicated scientists with timely funding that enables them to explore novel areas of investigation early in their careers, at what may be the most inventive and creative period in their research," said Rebecca W. Rimel, president and CEO of The Pew Charitable Trusts.
To date, the Pew program has invested more than $125 million to fund over 500 scholars. It is a rigorously competitive program where recipients receive $240,000 over four years to pursue their research without restriction. Applicants who work in all areas of physical and life sciences related to biomedical study must be nominated by an invited institution and demonstrate both excellence and innovation in their research. This year, 175 institutions were requested to nominate a candidate and 136 eligible nominations were received.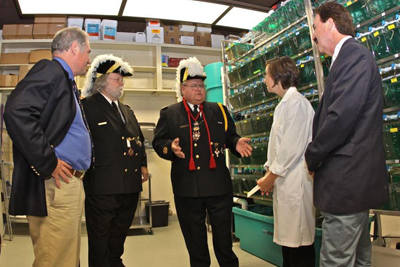 In addition to the Pew Foundation award, Morris has also been awarded funds for her groundbreaking research in visual function from the Knights Templar and Fight for Sight Foundations for specific gene research.
"Everything that we do is ultimately about outreach," Morris said. "I believe in the power of basic research for improvement of life and human health."
Listen to a podcast interview with Professor Morris as she explains more about her current research.