By Sarah Geegan & Ann Kingsolver
The UK Appalachian Center  and the Appalachian Studies Program will host scholars, artists and NGO representatives from mountain regions all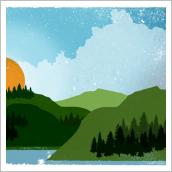 over the world on Oct. 25-27. This Global Mountain Regions conference, free and open to the public, will be focused on comparing notes across mountain regions on several continents as residents of those regions look to the future.
Each day, Thursday-Saturday, 8-5 p.m.  in the William T. Young Library auditorium, presenters from Appalachia and from other mountain regions in Indonesia, Ecuador, Wales, India, Mexico, Italy, China, Sri Lanka, Mali, Canada, the U.S., Japan, Trinidad and Tobago, Nepal and other nations will discuss common challenges they face and contributions that mountain communities can make to global conversations.
Every session will include presenters from different nations. Some of the transnational collaborations have been going on for decades, while some at this conference are new. Topics include transitions from economies based on single-resource industries to more diversified livelihoods; migration and displacement; indigenous social movements in mountain regions; broadband access; community media; absentee land ownership; rebuilding after disasters; environmental and health justice; and sustainable agriculture and forestry in mountain zones.
While economic and social marginalization of mountain residents within their national contexts will be discussed, the sessions will also emphasize the diversity within mountain communities and their tremendous natural and social resources.
The keynote lecturers Tammy Horn and Kunal Sharma, will focus on beekeeping in Appalachia and the mountains of southern India. This lecture will take place on Thursday, Oct. 25 from 3:30-5p.m. in Young Library Auditorium. Evening events will also be open to the public.
Thursday night, Oct. 25, at 7p.m. in the UK Student Center's Center Theater,  there will be a reading by Affrilachian poets Frank X Walker and Crystal Good, and Roger Bonair-Agard whose native Trinidad, with mountains of its own, influences his poetry. That reading is co-sponsored by the UK African American and Africana Studies Program, as is the closing concert on Saturday evening: "From Africa to Appalachia", presented by Jayme Stone, a banjo player from Canada and Yacouba Sissoko, a kora player from Mali, and accompanying musicians.
The concert will take place on Saturday , Oct. 27, at 7p.m. in Worsham Theater. Tickets are $5 at the door.
On Friday evening, October 26, at 7PM, in the Center Theater, UK Student Center, there will be a free presentation by indigenous leader Monica Chuji, from Amazonian Ecuador, and Si Kahn, who will sing songs rooted in the Appalachian tradition of social movements.
Dr. Sasikumar Balasundaram, postdoctoral scholar at the UK Appalachian Center and co-organizer of the conference with Ann Kingsolver, UK Appalachian Center Director, said, "This conference is an opportunity to build on Appalachia's already global connections with new possibilities for exchange, especially among young people in mountain regions."
For the conference program, please see: http://appalachiancenter.as.uky.edu/global-mountain-regions-conference.
Listen to a podcast about the conference here.