By Whitney Hale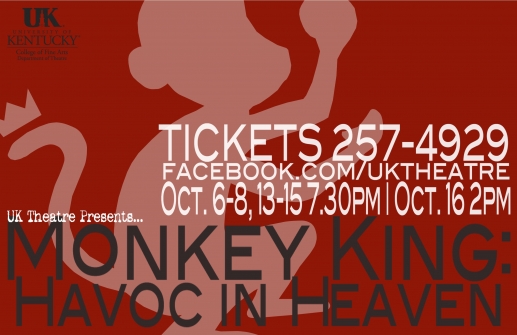 The University of Kentucky Department of Theatre will transport audiences to China in their opening production of the season, "The Monkey King: Havoc in Heaven." This family-friendly production will storm the Guignol Theatre stage Oct. 6-16.
"The Monkey King" is a classic tale of mayhem and adventure in a family-friendly setting. The performance highlights a beloved Chinese character, the Monkey King, as he raids the Grand Banquet of Immortal Peaches in search of extra lives. As a result, the central character finds himself in hot water with the Emperor and only Buddha can bail him out of his predicament. UK Theatre's "The Monkey King" will come to life through puppetry, dance, combat and colorful costumes.
UK's production of "The Monkey King" is adapted from popular Chinese folktales. The Monkey King or Sun Wukong is a beloved character in Chinese mythology. A well-loved imp, he gets into all manner of scrapes and creates mischief wherever he goes. The character is featured in many forms of Chinese theatre and film, as well as the Beijing Opera. The Monkey King was also the central character in a famous Chinese animated  film and children's book.
This cultural story has attracted attention from local schools, who plan to bring their students to one of two daytime matinees being presented for schools Oct. 11 and 12. More than 680 students are scheduled to take in the show as part of UK Theatre's outreach programming. Schools planning to attend are: Meadowthorpe Elementary, Sayre School, Martin Luther King Academy, Breckenridge Elementary, Winburn Elementary, Bryan Station Middle School, Ashland Elementary, Fort Knox High School and Providence Montessori.
"The Monkey King" is presented by UK Theatre in conjunction with UK College of Arts and Sciences' Year of China and the ArtsAsia Festival.
"The Monkey King" takes the stage 7:30 p.m. Oct. 6-8 and 13-15, and 2 p.m. Oct. 16.
Tickets are $15 for general admission and $10 students with an ID. To reserve tickets, call the Singletary Center for the Arts ticket office at (859) 257-4929 or visit online at www.singletarytickets.com.
The UK Department of Theatre at UK College of Fine Arts has played an active role in the performance scene in Central Kentucky for more than 100 years. Students in the program get hands-on training and one-on-one mentorship from a renowned professional theatre faculty. The liberal arts focus of their bachelor's degree program is coupled with ongoing career counseling to ensure a successful transition from campus to professional life.
UK's College of Arts and Sciences' "Passport to the World" initiative is intended to promote an understanding of international issues and to encourage an ability to see local issues in their global context. To this end, A&S, in partnership with Lexington Art League, Confucius Institute, Asia Center, UK Libraries, UK Department of Theatre, UK College of Fine Arts, UK Department of Art, UK College of Education and William T. Young Library, will focus on China in 2011-2012. As a world power, China is relevant to all segments of the American public – questions of foreign policy, economics, domestic politics, and the environment, among many others. By designating a "Year of China," the university seeks to explore these issues and more, and to situate multiple topics in a complex and nuanced understanding of a country with a long historical and cultural tradition. The programming includes guest speakers, educational events, and other projects promoting the study of China past and present. 
The ArtsAsia Festival, which is organized by the UK Asia Center and the UK College of Fine Arts, draws top-caliber performers, artists and scholars to UK and Lexington venues, showcasing the region's diversity with world-renowned performances, celebrated scholars, and fascinating visual arts. This year's events include Chinese puppet theatre, throat singers from Tuva and dance from India and Japan. Learn more at www.uky.edu/centers/asia.
For more information on "The Monkey King," contact the UK Department of Theatre at (859) 257-3297 or uktheatre@uky.edu.