by Gail Bennett
WUKY presented a check for $14,000 today to the University of Kentucky Army ROTC for their portion of the proceeds from the  inaugural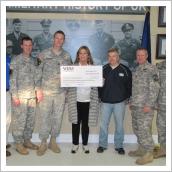 Kentucky National Guard Bluegrass Mud Run.  More than 700 people participated in this fun and exciting event, which took place on the UK campus Saturday, Sept. 22, 2012. 
WUKY, UK's NPR station, and the ROTC presented the event as a way for participants to have fun and promote a physically fit lifestyle. Capt. Robert Anderson with ROTC and  WUKY Development Director Gail Bennett agreed: "This was a great partnership and we look forward to working together in the future."
UK Army ROTC will use proceeds from the Mud Run to help support the cadets, and WUKY will use their share of the revenue to upgrade the technical needs at the station.
Plans are already in the works for next year's Mud Run which will take place in September 2013. Registration should be available by the first of January.
WUKY 91.3FM enlightens, inspires, and entertains its audience through the creation and presentation of the highest quality non-commercial radio programming. Through comprehensive, unbiased news coverage, unique musical offerings, and community partnerships, WUKY fosters civic development, celebrates cultural diversity, and advances the mission of the University of Kentucky.
UK Army ROTC is a premier leader development program that produces trained, adaptable leaders of character with a passion for service to our great nation.