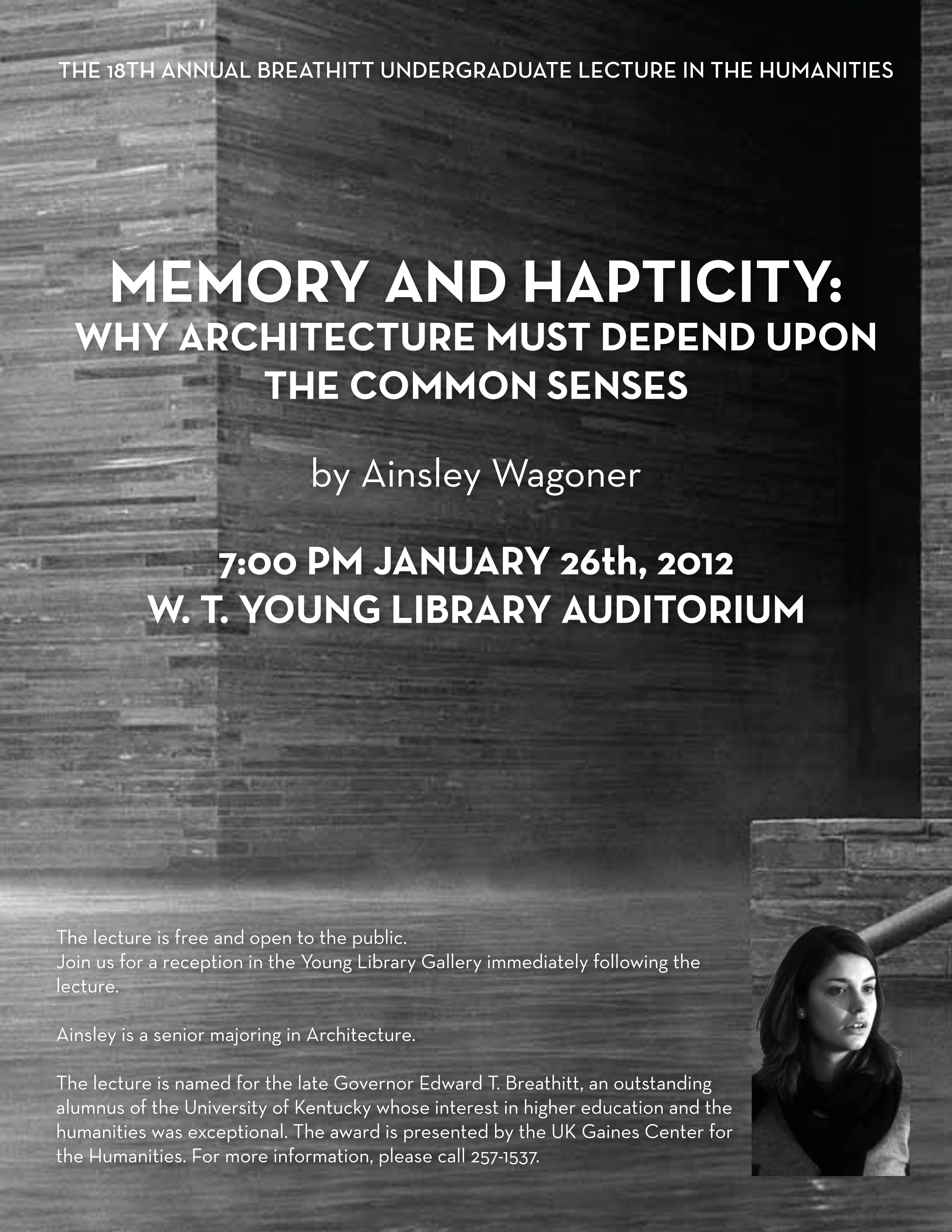 By Whitney Hale
Ainsley Wagoner, a University of Kentucky architecture senior from Lexington, will present the 18th annual Edward T. Breathitt Undergraduate Lectureship in the Humanities at 7 p.m. Thursday, Jan. 26, in the William T. Young Library Auditorium. Wagoner's lecture, which focuses on the role memory plays in haptic architecture, is free and open to the public.
 
The Breathitt Lectureship was designed to honor an outstanding UK alumnus with an exceptional interest in higher education and the humanities, Gov. Edward T. Breathitt. The lectureship is awarded to an undergraduate who has eloquently expressed the qualities of mind and spirit, including one or more of the basic concerns of the humanities: form, value and memory. Each year all undergraduate students are invited to apply for the lectureship.
 
Wagoner's lecture, "Memory and Hapticity: Why Architecture Must Depend Upon the Common Senses," will explore the role memory plays in haptic architecture, a kind of architecture that focuses on a full-sensory user experience.
The Gaines Fellow discovered her interest in architecture installations that directly dealt with specific senses while working as a teaching assistant in a contemporary architecture class. "I wanted to continue to explore this type of architecture for the Breathitt Lecture, but approach it from a more humanities-based standpoint, which is where the idea of memory comes in," Wagoner says.
The Breathitt Lectureship is presented by the Gaines Center for the Humanities. As part of the lectureship, a student is given the opportunity to write and deliver a humanities-oriented public lecture on the topic of their choosing. The student speaker is chosen through an application process that includes a lecture proposal submitted by the student to an independent committee of readers. 
In recognition of her selection to deliver the Breathitt Lectureship, Wagoner also will receive a commemorative award and a $500 honorarium.
 
Wagoner is the daughter of Carl and Tina Wagoner of Lexington. Along with majoring in architecture at UK, she also is pursuing a minor in music performance.
Wagoner became interested in becoming a Gaines Scholar through what she learned about the program from friends who were scholars. "I always considered the Gaines Program to be the pinnacle of the University of Kentucky education," Wagoner says. "I knew it would allow me to be with other really smart, weird, motivated students, and that it would push me to be the best student I could be and just generally be beneficial to my development as a thinking, writing, speaking human."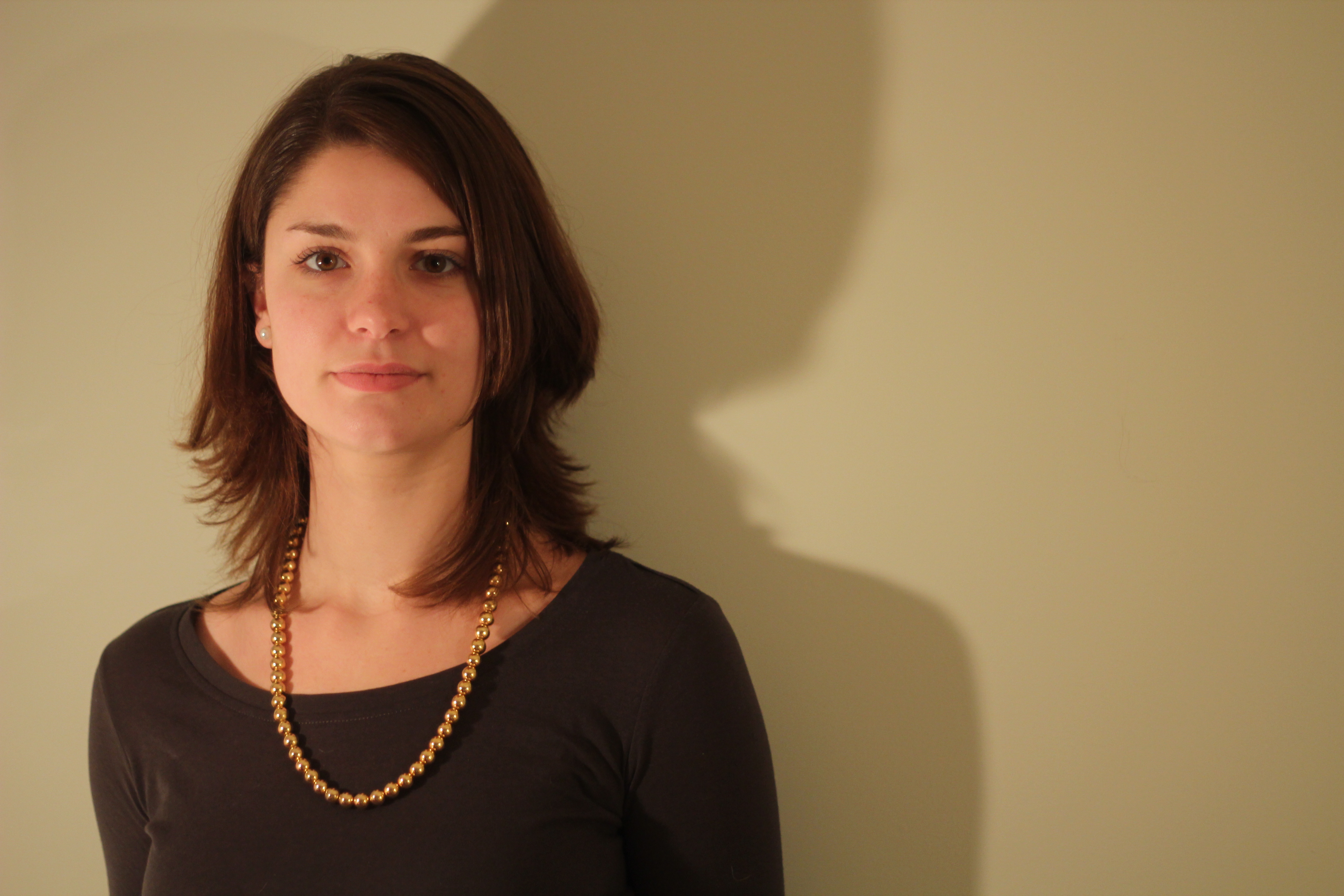 Outside of her Gaines Fellowship, Wagoner works as a graphic designer at Hive, at the College of Arts and Sciences, and at WRFL 88.1 FM, UK's student-run radio station. A member of the Honors Program, she has also performed as part of UK's Bluegrass Ensemble. Wagoner is a previous recipient of the Kate Johnson Scholarship, UK's Academic Excellence Scholarship, the Joseph P. Kennedy Student Development Council Scholarship, the 2011-12 Women Leading Kentucky Scholarship, and the Rowland Scholarship, as well as a UK Undergraduate Research Grant, which she used to conduct research abroad on her Gaines thesis.