By Whitney Hale, Grace Liddle
The University of Kentucky Department of Theatre in collaboration with UK's Russian Studies Program and the Department of History will present Bulgakov's Dreams, a drama on the life of the Soviet writer. The performance will begin 7:30 p.m. Saturday and Sunday, April 20 and 21, at Reynolds Building No. 1.
Mikhaíl Afanasyevich Bulgakov was a Soviet writer and playwright active in the first half of the 20th century. He is best known for his novel The Master and Margarita, which has been called one of the masterpieces of the 20th century. Bulgakov's Dreams is a historical drama that follows the life of the Soviet writer. Throughout the play, the audience will be taken on a journey not only through writer's novella Heart of a Dog and play The Days of the Turbins, but also through his own story of overcoming censorship.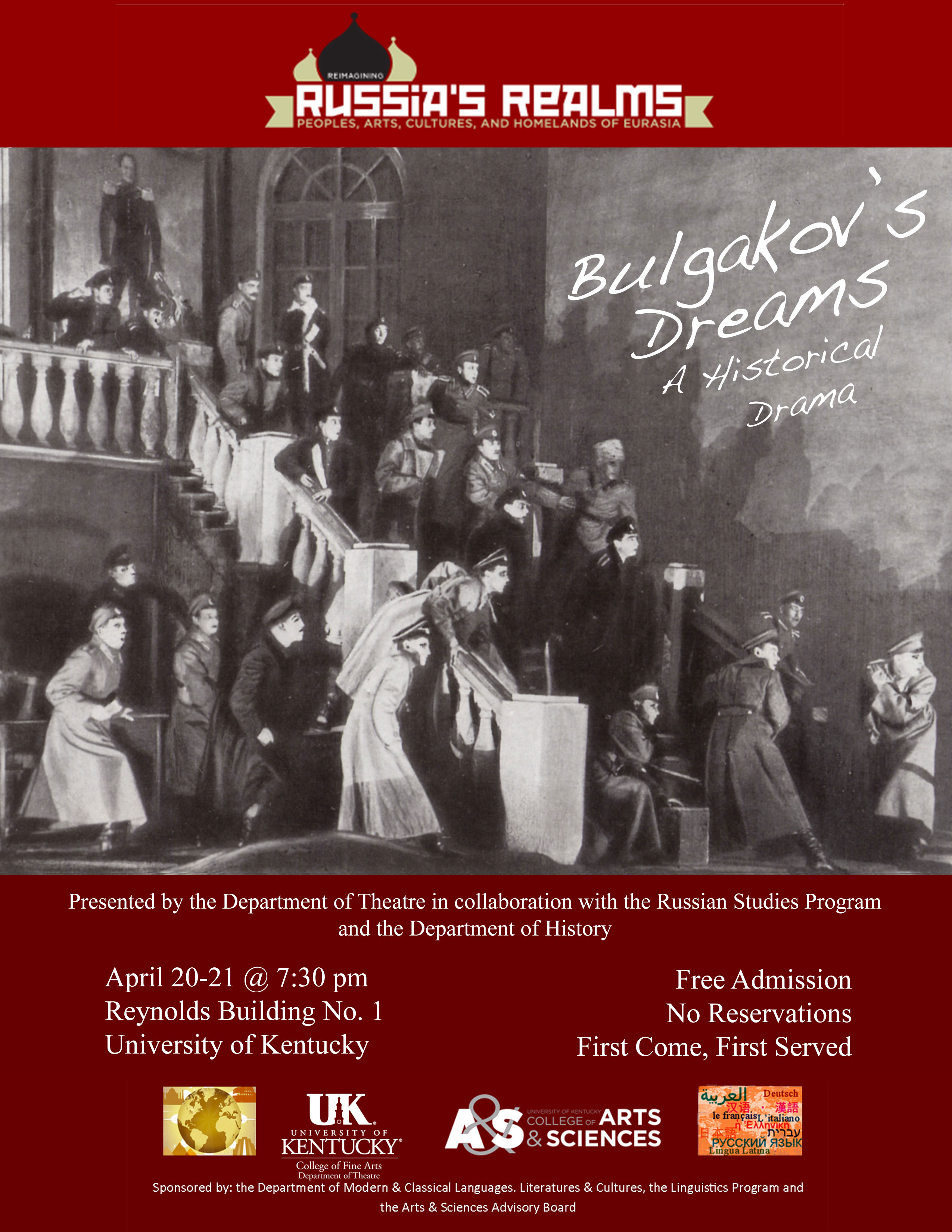 Bulgakov's Dreams, written and directed by Herman Daniel Farrell III, associate professor of playwriting, is based on primary and secondary sources that chronicle the life and work of Bulgakov.
The play is being produced by students in Farrell's Staging History course, a UK Core course in arts and creativity. The play will be presented utilizing an environmental staging technique that will require the audience to stand and walk through parts of the performance. The performance will also be wheelchair accessible.
The cast includes Patrick Camp as Bulgakov; David Alan Clark as Sharik/Dog/Talberg/Committee Member; Chandler Hostin as Doctor Philipovich/OGPU Agent; Kaitlyn Noble as Narrator/Myshlaevsky/Stanislavsky/Stage Manager; Caryn Beister as Narrator/Sudakov; J.T. McCoy as OGPU Agent/Nikolka Turbin; Paul DiSilvestro as Alexei Turbin/Repertkom Member/Chef; and Alexis Slocum as Elena Turbin/Liubov Bulgakov. Cheyenne Holbert is the production's stage manager.
In addition to the Saturday and Sunday performances, there will be an open dress rehearsal 7:30 p.m. Friday, April 19. Those interested in attending the rehearsal or performances should make reservations by contacting uky.bulgakov.reservations@gmail.com.
Bulgakov's Dreams is the product of an on-going collaboration between UK Theatre and the Department of Modern Languages, Literatures and Cultures.
Originally conceived by Professors Nancy Jones and Suzanne Pucci, these collaborative endeavors were designed to open the world of live theater to language and literature majors and allow each group to benefit from each other's expertise. This enterprise continued this year with the collaboration between Farrell and Cynthia Ruder, associate professor of Russian studies, whose courses have been designed to complement each other. Ruder's course on Bulgakov's plays has focused on the literary, historical and cultural context of the early works of Bulgakov so that her students can lend their expertise to staging a production that is produced in cooperation with Farrell's Staging History class.
Bulgakov's Dreams is presented as part of Reimagining Russia's Realms programming, part of the College of Arts and Sciences' Passport to the World initiative, sponsored by the A&S Advisory Board.