Chicano art is not a well-known genre, perhaps because the form is usually viewed as political, folklore, too vibrant, unrealistic, and abrupt.
However; to me, that just sounds like a lot of fun. To experience Chicano art at it's fullest, one must know the heritage of people of Mexican ancestry. I lived in Corpus Christi, TX, briefly with some family, some of whom are of Mexican-American descent. This is probably where my love for chicano art has sprouted from. Some believe that this type of art started when our war with mexico started and thousands of Mexicans became U.S. citizens overnight. Their art was created to confront discrimination, racism and exploitation. This type of art, also expressed inspiration from hereos from their indigenous, Mexican and American past. One of my favourite Mexican artists, an inspiration to Chicano art is Frida Kahlo. Many people do not like her because of the disturbing imagery she portrays in her paintings. She creates many self-portraits in which she has a unibrow, a well-defined feature of her culture. My Uncle, Joe Peña is a very talented Chicano painter. View this video featuring Cheech Marin dedicating his house to be a shrine of Chicano art, and when you get to the 4:46 mark and you will be viewing Joe's meat still-lifes.
Here are some of Peña's artworks...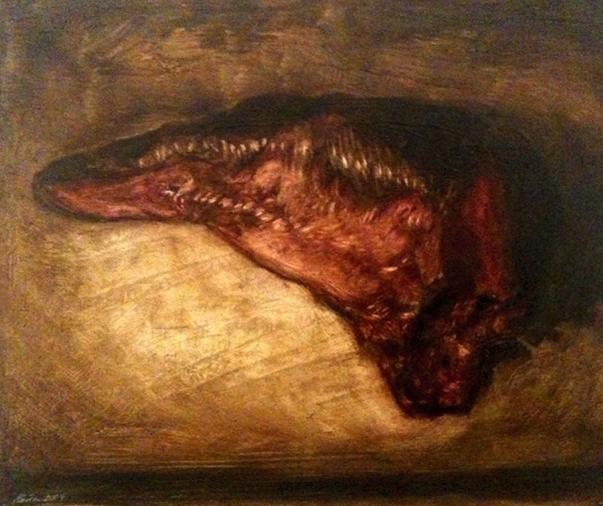 Peña & his piece, "Lengua" (cow tongue); after photographing the meat, Joe prepared the tongue for dinner & then painted the work below...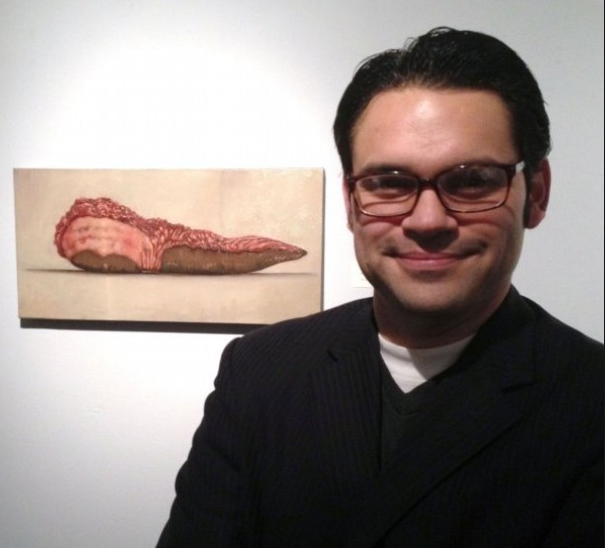 Here are some artworks that serve as inspiration to our Chicano artists, today...
I really love Frida Kahlo's self-portrait of "The little deer," I feel there is a humorous aspect to her work. Here it is below, with a few others.