By Sarah Schuetze
When Dan Rowland told people his address, they were surprised. Upon hearing it, one acquaintance even said, "Why, don't you respect your wife?"
In 1974, he and his wife Wendy had just moved to Lexington and bought a run-down mid-19th century house on the corner of Pine and Mill, in the historic South Hill neighborhood. They paid just $17,000 for it. "It was a wreck," he remembered, but they committed to restoring it.
Living downtown didn't have the same draw in the seventies that it does now. But over the last 40 years, Rowland has played a part in the evolution of downtown Lexington as well as the evolution of UK. 
Now a professor emeritus in UK's Department of History, Rowland was a devoted teacher for nearly four decades. "I'm thrilled with the career I've had," said Rowland. "I get enormous rewards from teaching," he added.
In the early seventies, UK was working on building its reputation as a research university — the reputation it has today. During this time, the university President John W. Oswald used Johns Hopkins University as a model for what UK could become as it evolved. But it had a long way to go. 
Rowland remembered that everything was "research, research, research." Since that time, research as well as teaching, service, and community engagement have become college-wide priorities. 
Certainly, Rowland has always been invested in his own research on 16th and 17th century Russian history. But not long after coming to UK, he became very involved in what was happening in Lexington beyond the university. 
As UK was undergoing something of a renovation, so were Rowland and his wife. While working on the restoration of his historic downtown home, Rowland became active in the South Hill Neighborhood Association. Along with other local groups, Rowland's neighborhood association was fighting the city's plans to demolish an African American neighborhood to build a parking lot for the Lexington Center. 
It was a long and involved fight — lasting years and even going to court in a suit against the city. Although Rowland and the hundreds of people involved lost the battle, they "drew blood," as he said. "We didn't want to, that wasn't the idea, but we didn't just go away." The lawsuit cost the city millions of dollars, but more importantly, it resulted in what Rowland described as a shift in power in the city. 
Rowland explained that before that point decisions had been made by "a small handful of business people in a closed room without consulting the people who were affected. They were shut out of the conversation." But now "Lexington neighborhood associations have huge power. No one treads on that unless they give their consent."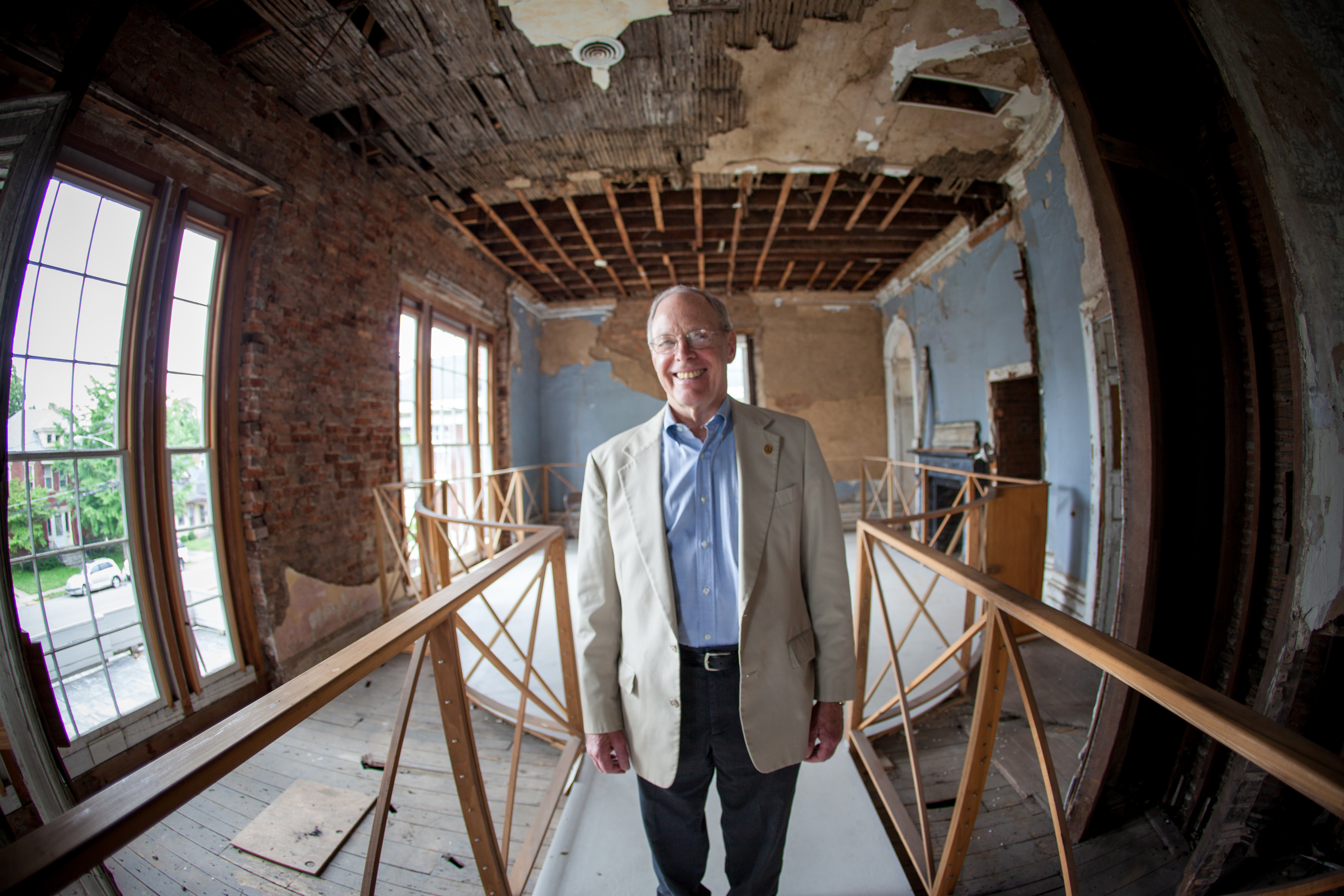 The Lexington Center battle also marked a shift in Rowland's career and life. Ever since that time, he has remained active in community engagement, especially preservation of historic places in Lexington. One of his most recent projects has been the preservation of the Pope Villa, a magnificent example of federal era architecture complete with a rotunda.
To honor his community work, the Department of History has established an undergraduate internship in Rowland's name, with a generous founding gift from Audrey Rooney, who received her Ph.D. from UK. Karen Petrone, chair of the Department of History, said, "The internship is named after Rowland in order to reflect and celebrate his career as someone who was incredibly engaged in the community."
Winners of the Daniel B. Rowland Community Internship receive financial assistance for unpaid expenses incurred during an internship that connects academics and the community.  
Petrone explained, "Many times when you work in the community, these are unpaid internships, so the idea is to pay expenses for students to enable them to participate in community work during the summer. The internships can be in historic preservation, history, public history, education or community engagement." 
Rowland wants students to understand that there are lots of paths besides academia that one can take with a history degree, so experience in the community is very valuable.
Since his retirement in 2012, Rowland and his wife spend half the year in Lexington and the other half in Maine. He's still active in the community and the Pope Villa restoration. 
Through Rowland's work with historical preservation in the community, he's learned so much about the city, neighborhoods, buildings, local politics, and even history.
"It's just a fascinating world that I got into by chance," he said.  
Rowland hopes his own students can discover fascinating worlds of their own — through academic work, community engagement, or the places where the two intersect. — sometimes at unlikely spots with surprising addresses. 
photo: Dan Rowland inside the preservation project of the Pope Villa