Distinguished "West Virginian Award" presented to Burtron H. Davis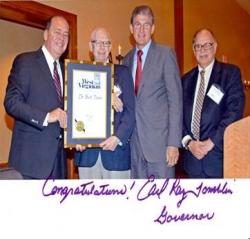 Burton H Davis, an adjuct faculty member in the Department of Chemistry and an Associate Director at UK's Center for Applied Energy Research was honored recently by West Virginia's Governor Earl Ray Tomblin with the "Distinguished West Virginian Award." The Governor applauded Dr. Davis while declaring that the award represents the highest honor that can be bestowed upon a person from West Virginia for outstanding achievement and meritorious service. Senator Joe Manchin was also present during the celebration as well as Jeff Herholdt, Director of the West Virginia Division of Energy.
Davis graduated with a B.S. in chemistry from West Virginia University in 1959 followed by a M.S., from St. Joseph's College (Philadelphia) and a Ph.D. from the University of Florida. He did his postdoctoral work under Paul Emmett at Johns Hopkins from 1965-66.
This was followed by a period of research with Mobil R&D Corporation, where he worked on naphtha reforming and aromatics hydrogenation. After working for Mobil, he returned to academia where he held the appointment of Associate Professor of Chemistry, Potomac State College, WVA from 1970-77. In 1977 he joined the staff of the Center for Applied Energy Research.
At the CAER he is responsible for developing a program in catalysis, Fischer-Tropsch synthesis, surface science studies, clean gasoline reforming with superacid catalysts, upgrading naphthas and direct coal liquefaction. This program involves both academic research and cooperative research with industry. He has developed a laboratory with extensive capabilities using radioactive and stable isotopes in reaction mechanism studies and materials characterization.
Photo left to right: Governor Tomblin, Dr. Burt Davis, Senator Joe Manchin and Director Jeff Herholdt.