By Sarah Geegan
Earth and Environmental Sciences Professor Frank Ettensohn recently joined an elite group of science, technology, and engineering scholars, who will serve a critical role in advising national policy makers. He is the first person from the Commonwealth of Kentucky to be named a Jefferson Science Fellow.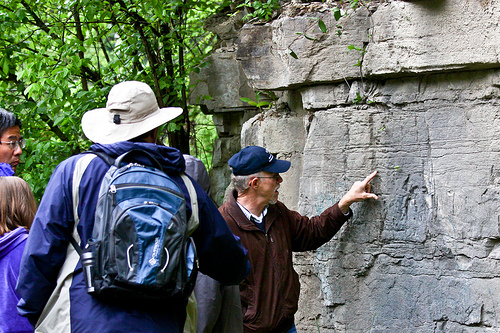 The Jefferson Science Fellows (JSF) program was established in 2003 as a model for engaging the American academic science, technology and engineering communities in formulating and implementing U.S. foreign policy. Overseen by the Office of the Science and Technology Adviser to the Secretary of State, and with administrative support of the National Academies of Science, the program is a model of a public-private partnership between the U.S. academic community, professional scientific societies, and the U.S. Department of State and U.S. Agency for International Development (USAID).
Serving mainly as advisors and educators, Jefferson Science Fellows aim to both advise and to increase understanding among policy officials, using their professional experience and cutting-edge knowledge of scientific issues and impacts on international relations.
 As a Jefferson Science Fellow, Ettensohn will serve for one year at the U.S. Department of State or USAID. Throughout this year, he will live near and work in the State Department in Washington D.C. as a science consultant and consulting diplomat in the areas of geological and environmental science. After the fellowship year, he will return to UK, but he will remain available to the U.S. Department of State/USAID to serve as a subject matter expert for a minimum of five years.
"Not only is it an honor for me, but it is really an honor for the university and state, because both the state and university have contributed to my professional development for nearly the entirety of my 38-year career," Ettensohn said.
Only 12 individuals from across the country were selected for the program; the selection was based on one's area of research expertise, as well as one's ability to present expertise in a manner that is understandable to people outside of the field.
"In both cases, I owe my experience to UK," Ettensohn said. "My area of expertise is in oil and gas shales, which abound in Kentucky, and I developed my expertise in the field because of their presence and importance in Kentucky. This is an area of research that I developed once I came to UK in 1975, independent of my previous Ph.D. research. As for my ability to present my expertise in an understandable fashion, this comes from my teaching, in which I must be able to present information and issues in a fashion that students can understand. If I am able to do this for students, I should be able to do the same for politicians and government policy makers."
Ettensohn has been a member, advisor, or officer of the Kentucky Academy of Science Geology Section, the Kentucky Society of Professional Geologists, the Kentucky Paleontological Society, and the Kentucky Section of the American Institute of Professional Geologist (AIPG), of which he was president in 2011. That year, the AIPG awarded him a Service Award, and the American Institute of Professional Geologists, Kentucky Section awarded him its Presidential Award. 
Most recently, he was elected as the Geological Society of America representative to the North American Commission on Stratigraphic Nomenclature – a commission that oversees the naming of all rock units across North America.