by Whitney Harder
(Feb. 28, 2014) – Nominations for the Sarah Bennett Holmes Award are in and a total of 26 women will be acknowledged at the Holmes Award Luncheon at 11:30 a.m. Thursday, March 6, in the Frank Harris Grand Ballroom of the UK Student Center. Two of the 26 women who profoundly contribute to issues that affect women at the University of Kentucky and across the Commonwealth will be chosen as the 2014 award recipients.
Created by the UK Women's Forum, the Sarah Bennett Holmes Awards have been among the most esteemed recognitions bestowed at UK. The award recognizes one female faculty member and one female staff member who promote growth and well-being of women at the university and across Kentucky. The award brings recognition for efforts that might otherwise go unnoticed.  
Each recipient of the 2014 Holmes Award will receive special recognition at the luncheon and $1,000. The winners' own legacy will be remembered by an engraving of each name on the Sarah Bennett Holmes memorial plaque hanging in UK's Main Building.
Nominees of the 2014 Holmes Award include 12 faculty and 14 staff nominees.
Faculty Nominees:
Staff Nominees:
Lynne Jensen, a nurse practitioner and associate director for clinical care for the Center for the Advancement of Women's Health, and Kathy Sheppard-Jones, the training director at the Human Development Institute and adjunct assistant professor for the Rehabilitation Counseling Program at UK, will speak at the 2014 luncheon. Both are 2013 Holmes Award recipients.
Reservations for the luncheon are $15 for individuals and $120 for a table of eight. To make a reservation, fill out the luncheon reservation form. Reservations will close at the end of the day Monday, March 3.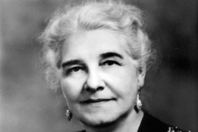 Sarah Bennett Holmes, a distinguished former dean of women at UK, tirelessly championed the rights of women throughout her career. Widowed at a young age, Holmes raised four children while completing her own education. She then began a successful career at the university where she inspired young women to persevere in the face of hardship and pursue their career goals. Among her accomplishments, Holmes developed work programs for women during the Depression.
In her honor, the UK Women's Forum created the Sarah Bennett Holmes Award and since 1994 has been honoring women at UK who demonstrate the same principles as Holmes through their work and service.
The UK Women's Forum is an organization for all employees of the university faculty and staff. Its mission is to exert a leadership role in empowering, validating, informing, including and celebrating all women employed at UK by addressing challenges, communicating issues and recognizing successes within the context of the workplace.