by Robbie Clark
(May 12, 2014) — Fresh fruit and vegetables will soon be available on the University of Kentucky campus again as producers from the Lexington Farmers' Market set up shop at Commonwealth Stadium once a week through the growing season.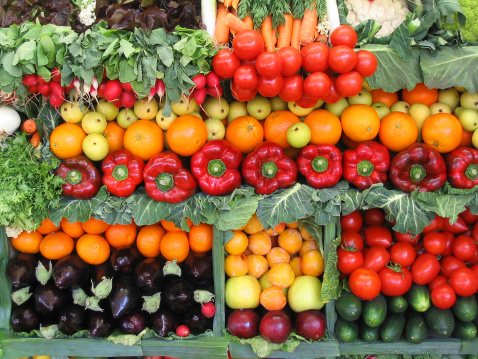 This will be the third season for the program, called Lexington Farmers' Market @ UK. The market will run from 3-6 p.m. every Wednesday from May 14 through Aug.13, rain or shine, at the corner of Alumni Drive and University Drive.
Along with fresh fruit and vegetables, farmers will have other farm products including meats, eggs, honey, and jams and jellies available for purchase.
The market, a partnership between UK Health and Wellness and the Lexington Farmers Market, gives local and regional vendors an additional venue to sell their produce. About 12 to 18 vendors set up each week. UK employees and residents of the nearby neighborhoods appreciate having a convenient place to shop.
Vanessa Oliver, a registered dietitian with UK Health and Wellness who helps to organize the market on UK's campus, says the market is an opportunity to offer fresh, nutritious foods to members of the UK community, as well as to educate shoppers about the health benefits. UK Health and Wellness will have a booth at the market each week staffed by professionals from the department to suggest recipes or help customers shop the various booths.
For the Lexington Farmers Market, the UK location provides another way for local farmers to reach the community. Jeff Dabbelt, the organization's executive director, says member farmers are always asking him about more vending opportunities. The location and time slot are ideal, he says, because the stadium has ample parking, and there was not previously a market on Wednesdays. 
This year, Lexington Farmers Market will also be organizing a group walk from the market to the UK Arboretum and back each week. The walk, which begins at 4:30 p.m. while the market is in session, is open to anybody in the community, and parking is available near the market at the stadium.
For more information about Lexington Farmers' Market, click here.