By Brian Connors Manke
(July 16, 2014) — Originally from Indianapolis, Nathan Moore and his mother moved to Louisville when he was around 12. Growing up on both sides of the Mason-Dixon Line, Moore is somewhat conflicted as a northern southerner, or is that southern northerner?
Regardless, one direction that Moore is certainly moving is up. The University of Kentucky junior was recently named a fellow for the Schomburg-Mellon Humanities Summer Institute in New York City, and as one of only 10 recipients to be bestowed that honor, it is helping to further define who Nathan Moore is and who he is quickly becoming as an academic.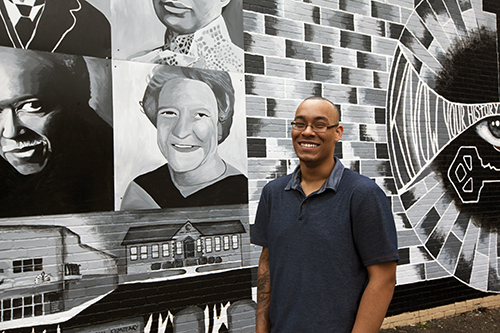 "Being accepted into this fellowship is not only a prestigious and exciting opportunity, but it also serves as a great validation of all the hours I have spent working so hard in and outside of the classroom," said Moore, who is majoring in English with a minor in African American and Africana Studies.
"It really is a great honor to be able to spend time with some of the 'big names' in my discipline and just be able to devote time to research. This will definitely be a great learning experience and this fellowship serves a way to network and learn from other people in my field that have similar interests," he said.
Instrumental in Moore's success has been Assistant Professor Damaris Hill, who began to mentor him after she was impressed by his insightful commentary and writing in one of her courses.
Moore says that Hill understands the challenges he faces as a student working a full-time job and trying to be a scholar and an artist in academia. "Dr. Hill has challenged me not only to follow my passions but to challenge my mind as a scholar and researcher. I can honestly say, she has had a very influential impact on my academic career."
It was Hill who brought the fellowship opportunity to Moore's attention and helped him during the application process. "He is a talented student that offers unique perspectives of American/African-American literature, particularly the intersections between African-American literature and notions of the fantastic in marginalized cultures," Hill said.
Hill sees Moore as someone ready to burst onto the literary and research scene. "His insights regarding African-American literature stand above those of his peers and contemporaries," she said. "The Schomburg-Mellon Humanities Summer Institute will give him the training he needs to transform quality research ideas into publishable academic papers and prepare for high ranking doctoral degree programs. Additionally, his writing prescribes literary tropes and extends meanings beyond cultural rhetoric into psychoanalytic and philosophical inquiry regarding the author's intentions. In this way his work resonates with readers and writers. Moore is sure to be a researcher that will change the literary landscape of African American studies with his contributions."
The fellowship was created to encourage minority students and others with an interest in African-American and African Diasporan studies to pursue graduate degrees, and it's a path that Moore is focused on. "I am totally planning on going to graduate school to pursue a (master's) and then most likely a (doctorate). My research, which I will be pursuing more fully at the Schomburg this summer, centers on early African-American literature, particularly slave narratives, and the visionary qualities of those texts."
With Moore primed and ready for the academic undertaking, what challenges could possibly be on the horizon? "Maybe trying to see every single part of New York in only six weeks?"
Additional information:
Moore's contribution to the National Conference on Undergraduate Research that was hosted by UK this spring.
Listen to Nathan Moore and Damaris Hill talk about Afrofuturism on WUKY.
View more photos of Nathan Photos by Dana Rogers
**The mural that is featured in the photos is titled "Know Your History" and is in the East End of Lexington at Third Street and Race. The artist, Sundiata Rashid, who resides in the East End neighborhood, tied the past and present together while also including significant neighborhood buildings. Half of the mural is black and white…depicting the past…and the other half is in color and represents the future.