by Sarah Geegan
UK Associate Professor of Earth and Environmental Sciences Alan Fryar was recently featured in The Chronicle of Higher Education; his essay describes his experience with 11 students from the arid Middle East and North Africa who convened in drought-stricken San Angelo, Texas, to learn about water.
Through a grant from the State Department's Bureau of Oceans and International Environmental and Scientific Affairs, Fryar and colleagues focused on capacity building in the Middle East and North Africa, with a particular emphasis on hydrology.
In collaboration with researchers from the University of Georgia and Western Michigan University, Fryar participated in a program called BOOST: Building Opportunity Out of Science and Technology. Fryar's colleagues in Egypt and Morocco selected graduate students from those two countries with experience in hydrology and geology to participate in a field course. Five students from Morocco and six students from Egypt traveled to the U.S. in June.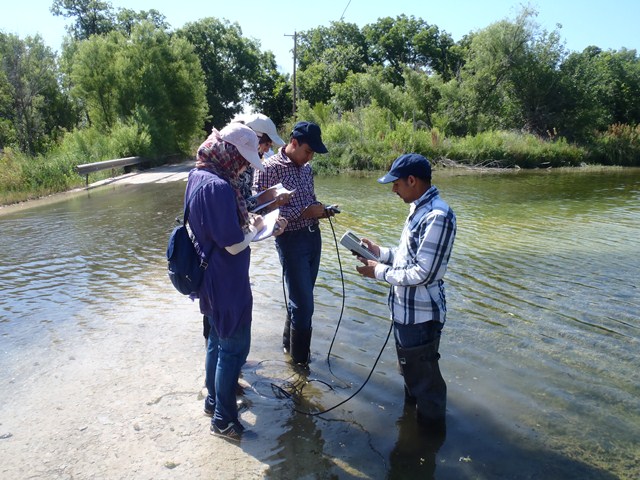 The training involved various tests and applied skills in the field, such as measuring water infiltration, stream flow, depths to water in wells and water chemistry. Fryar said that the students arrived with varying skill sets, though no set was complete. The goal was to transfer knowledge in a holistic manner.
The effort also represented cultural undertaking, as the students were largely unfamiliar not only with the U.S., but also with their international counterparts. Fryar's essay, titled "Hijabs, Hydrology and Lyle Lovett," describes his time instructing, learning from and bonding with the students throughout their time in Texas.
To read the essay, click here.