by Jenny Wells & Grace Liddle
LEXINGTON, Ky. (Nov. 5, 2013) — As the first lecture of the Chellgren Seminar Series, Ganpathy Murthy, professor in the University of Kentucky's Department of Physics and Astronomy, will deliver a lecture titled "The Birth of Our Universe" 7 p.m. Thursday, Nov. 7, in the William T. Young Library Auditorium. He will discuss the Big Bang Theory — not the television show.  A reception will follow in the Alumni Gallery.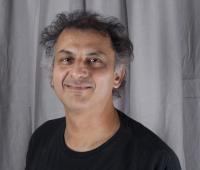 Murthy, considered a dynamic speaker, is capable of bringing deep physical insights to an audience of non-specialists. He received his doctorate in theoretical condensed matter physics from Yale University in 1987, and  his research is on the effects of electron correlations and disorder in determining material properties. 
Download a flyer about the event. 
The purpose of the Chellgren Seminar Series is to contribute to the intellectual aspects of the undergraduate experience by inviting eminent scholars to deliver brief, provocative presentations on issues that expand our thinking and imagination.
The Chellgren Seminar Series is supported by The Chellgren Center which is part of the Academy of Undergraduate Excellence within the Division of Undergraduate Education at UK.