By Whitney Hale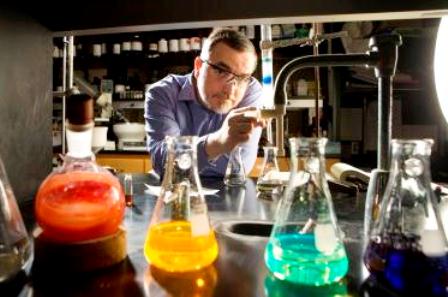 Chemist and educator John Anthony will receive the 2012 University of Kentucky Libraries Medallion for Intellectual Achievement. The award will be presented to the medallion recipient at the University of Kentucky Libraries Annual Dinner scheduled for April 13, at the Hilary J. Boone Center on the UK campus. This year's dinner will also feature a talk by guest speaker and UK alumnus Alan C. Lowe, director of the George W. Bush Presidential Library and Museum.
The UK Libraries Medallion for Intellectual Achievement recognizes high intellectual achievement while encouraging education and promoting creativity throughout the Commonwealth. Candidates must have been born in Kentucky or studied, worked or lived in Kentucky for at least three years and have demonstrated intellectual excellence in a scientific, artistic, literary, social or humanitarian venue or who have produced some original work or contribution of lasting value. Past recipients of the UK Libraries Medallion for Intellectual Achievement include Wendell Berry, James Still, Bobbie Ann Mason, William Markesbery and Adalin Wichman.
"The prior winners are really an amazing group of people, and I am humbled to be considered alongside them for this award," Anthony said. "Personally, I feel I still have a long way to go to match the contributions that group has made to the Commonwealth."
Medallion recipient, Hubbard Professor of Chemistry John Anthony, has been an influential teacher and researcher since joining the UK Department of Chemistry in 1996. UK Libraries is recognizing Anthony for his research in the field of organic electronics. This area of research aims to replace the silicon-based semiconductors commonly used in modern technologies with thinner, lighter, less-expensive versions based on carbon. Anthony's work is designed to use new materials to yield the next generation of low-cost solar cells.
"It is an absolute honor to be awarded this medallion," Anthony said. "Especially this time of year, it is easy to forget that a major purpose of a university is to pursue solutions to the great intellectual challenges that confront the world. I am delighted that the committee felt that confronting the challenges in the field of energy was worthy of this award. Again, this is really what being a member of the university community is truly all about."
Anthony received his bachelor's degree in chemistry from Reed College and performed doctoral research with François Diederich at the University of California, Los Angeles (UCLA) and at the ETH in Zürich. He returned to UCLA for postdoctoral studies with Yves Rubin. Anthony has been awarded the Dreyfus New Faculty Award, a National Science Foundation CAREER award, and has been named University Research Professor. He is the chief science officer and founder of Outrider Technologies, a materials developer and supplier to the flat panel displays industry, and is CEO of Ephemeral Technologies. Earlier this spring, he was awarded the university's Kirwan Prize for outstanding research.
Alan C. Lowe, UK alumnus and native of Paris, Ky., has been the director of the George W. Bush Presidential Library and Museum since 2009. Lowe began his career with the National Archives where he helped assemble records to open the Ronald Reagan Presidential Library. He later served in the Archives' Office of Presidential Libraries, where he was lead adviser for the George H. W. Bush and William J. Clinton Presidential Libraries. Lowe has also previously served as interim director of the Franklin D. Roosevelt Presidential Library.
Currently, Lowe serves as a member of advisory panels for the Mayo Clinic Health Policy Center and UK's Institute for Rural Journalism and Community Issues. He holds bachelor's and master's degrees in history from UK.
As the major research library in the Commonwealth, UK Libraries provides comprehensive access to information essential to teaching, research and service at UK. The library system includes 12 facilities; more than 3.7 million volumes; more than 31,000 current periodical titles; more than 400 networked electronic resources; and 45,450 electronic journals accessible on and off campus.