By Colleen Glenn
"Welcome to the first day of class everybody.  Let's go over the syllabus so you know what to expect in this course."
For UK students taking Statistics 210 this summer, these familiar words have taken on new meaning. Students meet their instructors not when they enter the classroom, but when they log onto their computers.
STA 210, or Introduction to Statistical Reasoning, is one of several online courses that the College of Arts & Sciences offers in the summertime. Citing greater flexibility and hectic schedules, more and more students are opting to take this UK Core requirement online.
"I chose to take the online course as opposed to the traditional classroom setting because of how busy and chaotic my daily schedule can get," said Whitney Scott, a pre-law sophomore at UK, majoring in art history and minoring in French. "It being summertime, I didn't want to have to feel like I was being held back from doing other things I wanted to do just because of STA 210."
Non-traditional students, in particular, find online courses appealing because they allow students to take classes without leaving the home or changing their work schedules.
A senior in Health Sciences, Wayne Caldararo, explained that taking STA 210 online allowed him to fulfill his other obligations: "I work at a very demanding job and have a family that needs me around." He added that taking STA 210 online allowed him to attend a family vacation as well as deal with an unexpected surgery in the family this summer.
But greater flexibility and multiple obligations outside of school are not the only reasons why students are flocking to online courses, like STA 210. Many students say they prefer to learn at home rather than in the classroom.
"Taking stats online gave me time at home without the unnecessary distractions that take place in the traditional classroom," said Jimmy Wheeler, a junior, who took the course last summer.
Despite the "distance learning" aspect of the course, STA 210 students report that the daily video announcements helped them feel like they knew their instructor personally.
"I got to see my instructor and hear him explain daily course activities, which he made more enjoyable because of his personality. This helped make it more 'class-like,'" said Caldararo.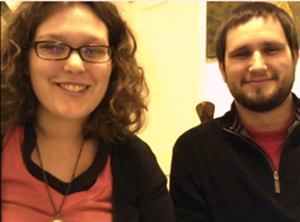 TA's Amanada Ellis and Nathan Koebcke during a video message to their class.
Giving the class a personal feel, explains professor of Statistics Bill Rayens, was one of his primary goals when he developed the online version of STA 210 last summer.
"STA 210 is a conceptual course in statistics that involves much more interaction and discussion than computation," said Rayens. "We knew it would be a challenge to replicate this interaction and discussion online. But we were determined and we spent a lot of time brainstorming about how we might best do this and keep the personal feel of the course. By that, I mean create an environment where the students know they are interacting with a real person on the other end. "
What Rayens and his colleagues devised was a syllabus that, in addition to daily video posts by their instructors, includes student video posts as well as timely class activities and discussion boards that help make the course take place in "real time."
Rayens said that the student video assignments give the class variety and help him get to know his students better.
"We would typically have these student videos posted on YouTube with a variety of rules for length and content, but in the end, instead of grading a static piece of written work, we got to see our students describe and discuss their answers. For me, this really helped me put faces and personalities, along with abilities, together with a name and a student ID."
Determined to get to know his students and for them to know him, instructor Dustin Lueker asks his students to complete a few "About Me" type questions at the beginning of the course, as well as submit a photo of themselves on Blackboard. He makes his own "About Me" video as well.
"This lets me get to know a little be about the students as well as lets them showcase some of their personality in the answers and photos. While it is time consuming, I go through each of their submissions and reply to all of them."
Lueker strives to make his daily video posts personable, and he does that in part by being "real" on camera and sharing some of his personal life.
"There are mistakes and often times I may even get off topic for a short bit. In a couple of videos, I filmed my 4 month-old nephew or my cat, Stu, as well. Stu also interjected himself into a few videos he wasn't intended to be in. While these things didn't pertain to the class, it helped showcase some of my personality and let the students into my life a bit similar to how it would be if I were meeting with them face to face during the semester."
Methods such as Lueker's seem to set his students at ease. Contrary to what many would expect, STA 210 students indicate they feel it is easier to communicate with instructors when they take courses online.
"You feel like you can talk to your instructor more because of the informal nature of the online format," said Caldararo. "Questions don't have to be pondered over for validity or inconvenience; you just send an email or post a discussion question, and you know it will be seen in a timely manner because the instructors are on their computers."
Caldararo, Scott, and Wheeler all say they will take more courses online in the future.
"I am currently enrolled in WRD 110: Composition and Communication for the upcoming semester and am excited about seeing how well a different class but same setting work out," said Scott. "I believe that if a student has any level of self-motivation, determination, and independence, they can surely make it through an online course."
STA 210: Introduction to Statistical Reasoning from UK College of Arts & Sciences on Vimeo.