Excerpt from Kentucky Civil Rights Hall of Fame Oral History Project interview with Raoul Cunningham. Video courtesy of the Louie B. Nunn Center for Oral History. A transcript of this video can be seen here.
by Whitney Hale
(March 5, 2014) — As Kentucky stops today to remember the 1964 Civil Rights March on Frankfort, University of Kentucky announces a new collection of oral histories with many of the state's most noted civil rights activists exploring major milestones in the civil rights movement in the Commonwealth.
The Kentucky Civil Rights Hall of Fame Oral History Project is being made possible by a partnership between UK Libraries' Louie B. Nunn Center for Oral History, the UK Office of Community Engagement and the Kentucky Commission on Human Rights. The commission established the Kentucky Civil Rights Hall of Fame to recognize men and women who are or have been leaders in the struggle for equality and justice in the Commonwealth; to raise public awareness about human rights issues; and to foster an environment for discussion and education regarding Kentucky civil rights history and ongoing challenges.
The oral history collection was the brainchild of Lisa Higgins-Hord, assistant vice president for community engagement, who helped with the Kentucky Civil Rights Hall of Fame 2010 Induction Ceremony at the Lyric Theatre. She was inspired by the work of Executive Director John Johnson and the Kentucky Commission on Human Rights, as well as the stories of the inductees the commission selected for the honor.
"During this time I got to know Mr. Johnson's staff and was very impressed with their dedication and sense of integrity regarding the program. The event was packed with the families of the inductees and supporters of the commission. As each inductee stood before the crowd and their name and accomplishments were read I was deeply humbled and proud to be in their presence," said Higgins-Hord.
Still awed by the inductees' contributions a month later, Higgins-Hord began to search for a way to recognize these inductees and their major contributions as leaders in the struggle for equality in Kentucky.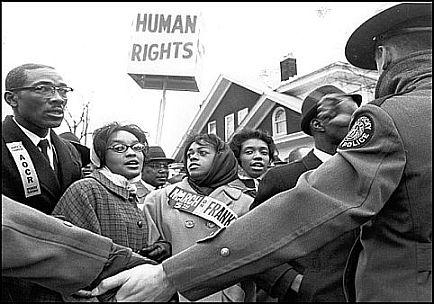 "I felt this collective wealth of knowledge should be heard by more than those who were in the room. Sure, we could read their bio and see their name displayed in the Hall of Fame, but we are just looking at pictures and words; however, when someone is able to tell you their story in their own words, you can experience their rawness, emotion and sometimes get a glimpse into our history as they paint the picture of the reality they were facing at that very moment in their life. They also surprise us when they speak of standing in faith not knowing what the next minute of life would look like."
Wanting to capture that impact, Higgins-Hord reached out to Doug Boyd, director of the Louie B. Nunn Center for Oral History. Boyd and the center, internationally known for their work in oral history, were excited to partner with Higgins-Hord and Johnson to make her idea a reality. The partners worked together to design a valuable collection that the public could easily access and use for years to come.
Since then, the group has been hard at work interviewing the inductees with the assistance of interviewer Nieta Wigginton and videographer Joanna Hay. In addition they are creating a website to host a series of videos with the Kentucky Civil Rights Hall of Fame inductees.
"Through our partnership, we will use these important oral history interviews to assist Mr. Johnson in the process of educating students across the state of Kentucky and others who are interested in the experiences of these leaders. Their experiences are part of Kentucky's history and giving users a chance to search, explore and connect with these interviews online provides a powerful glimpse into their lives. They give us a chance to understand what it is like to live a purposeful life as we continue on our own journeys in life," Boyd said.
To date, 10 members of the Hall of Fame have been interviewed for the Kentucky Civil Rights Hall of Fame Oral History Project: Raoul Cunningham, Dolores Delahanty, John Johnson, Mattie Jones, George Logan, Edgardo Mansilla, Charles Neblett, P.G. Peeples, Suzy Post and Georgia Davis Powers.
Another five oral history interviews will be completed and added this year to the collection.
Created in 1960, the Kentucky Commission on Human Rights initially was instructed to encourage fair treatment and foster mutual understanding and respect, and to discourage discrimination against any racial or ethnic group or its members. In 1966, the commission role expanded with the passage of The Kentucky Civil Rights Act, which made discrimination illegal on a state level, and it made the Kentucky Commission on Human Rights the statutory authority to enforce the law for the Commonwealth. The agency receives, initiates, investigates, conciliates and rules upon jurisdictional complaints alleging violations of the Kentucky Civil Rights Act. The commission also is mandated to educate members of the public about their rights under the law to live free from discrimination in Kentucky.
With UK committed to improving the quality of life of Kentuckians through engagement, outreach and service, the UK Office of Community Engagement supports this effort of intentionally building partnerships that are collaborative, sustainable and mutually beneficial. The office connects organizations, community groups, schools and agencies to the university's students, faculty and staff.
The Louie B. Nunn Center for Oral History is internationally recognized for its outstanding collection of more than 9,000 oral history interviews. The number of interviews available online continues to grow, providing greater access to the collection. Topics are wide-ranging from Appalachia, politics, veterans' stories, as well as documenting important Kentucky industries such as the horse, coal and bourbon industries.