Video by UK Public Relations and Marketing.  Photos courtesy of Ree & Lou Karibo and Special Collections, University of Kentucky. 
By Sarah Geegan
In 1956, Elvis Presley released "Love Me Tender," a ballad that would become a Valentine's Day classic. That same year, Lou and Ella Marie "Ree" Karibo were married. This couple who met and fell in love at the University of Kentucky have since brought to life the love song of the era: "Love me tender, love me dear; tell me you are mine. I'll be yours through all the years, till the end of time."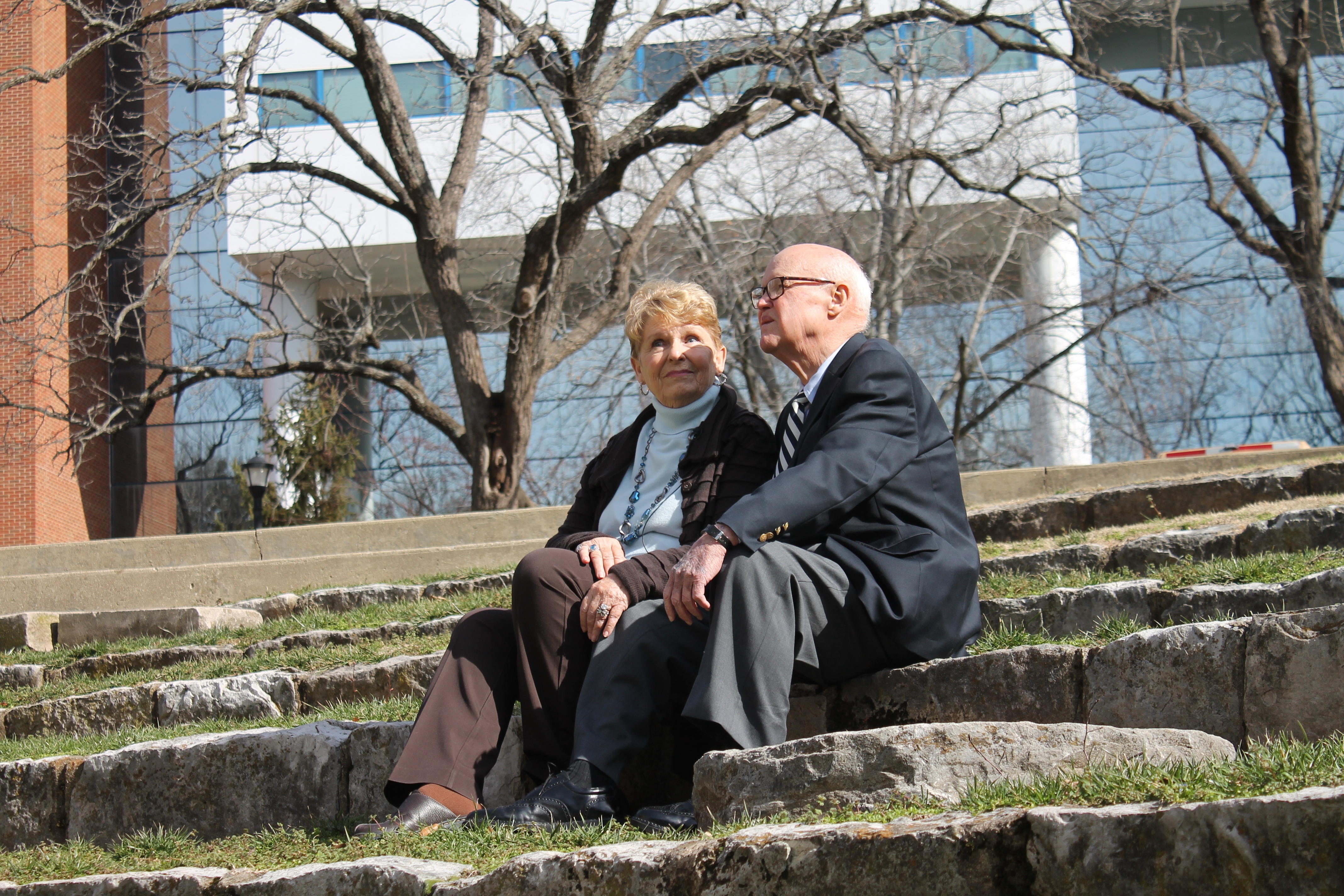 He was a football player and a diver; she was a cheerleader and a dancer. Both from Louisville, though they had never even heard of each other's high schools, the Karibos met at the UK Student Union Building in 1951. Lou came to UK on a football scholarship offered to him by the legendary UK football coach Paul William "Bear" Bryant, and a year later Ree arrived at UK, the only university she pictured herself attending.
"Well I grew up in Louisville, and all of my family and Lou's family are big U of L people," Ree said. "But I don't know, I just wanted to come to U of K. I loved every minute of it."
Lou said he partly attributed his football scholarship to an all-star high school football game he played the season before coming to UK.
"I had a particularly good day and got a scholarship here," Lou said. "And I was on the football team, the swimming and diving team, and the track team. But football dominated."
As both of them spent considerable time on Stoll Field, Lou making plays, Ree cheering on the sideline, the common love of sports formed a strong bond between them.
"Somebody asked me 'what did you do on the second day of your marriage?'" Ree said.  "We went to a Cincinnati ball game watched Gus Bell play, drank beer and ate hotdogs, and that's kept us together 57 years. We both love sports."
The two were extremely involved in other campus organizations as well. Both were members of the Troupers, an entertainment organization. Ree performed as a dancer, while Lou served as a trampoline jumper. They also attended the many events that came to campus.
"We love to dance," Ree said. "That's one thing we really enjoy doing, and they had a lot of really big bands back in the '50s here in Lexington, nationally known bands, and they were all upstairs in the Student Union Building. We'd go there a lot."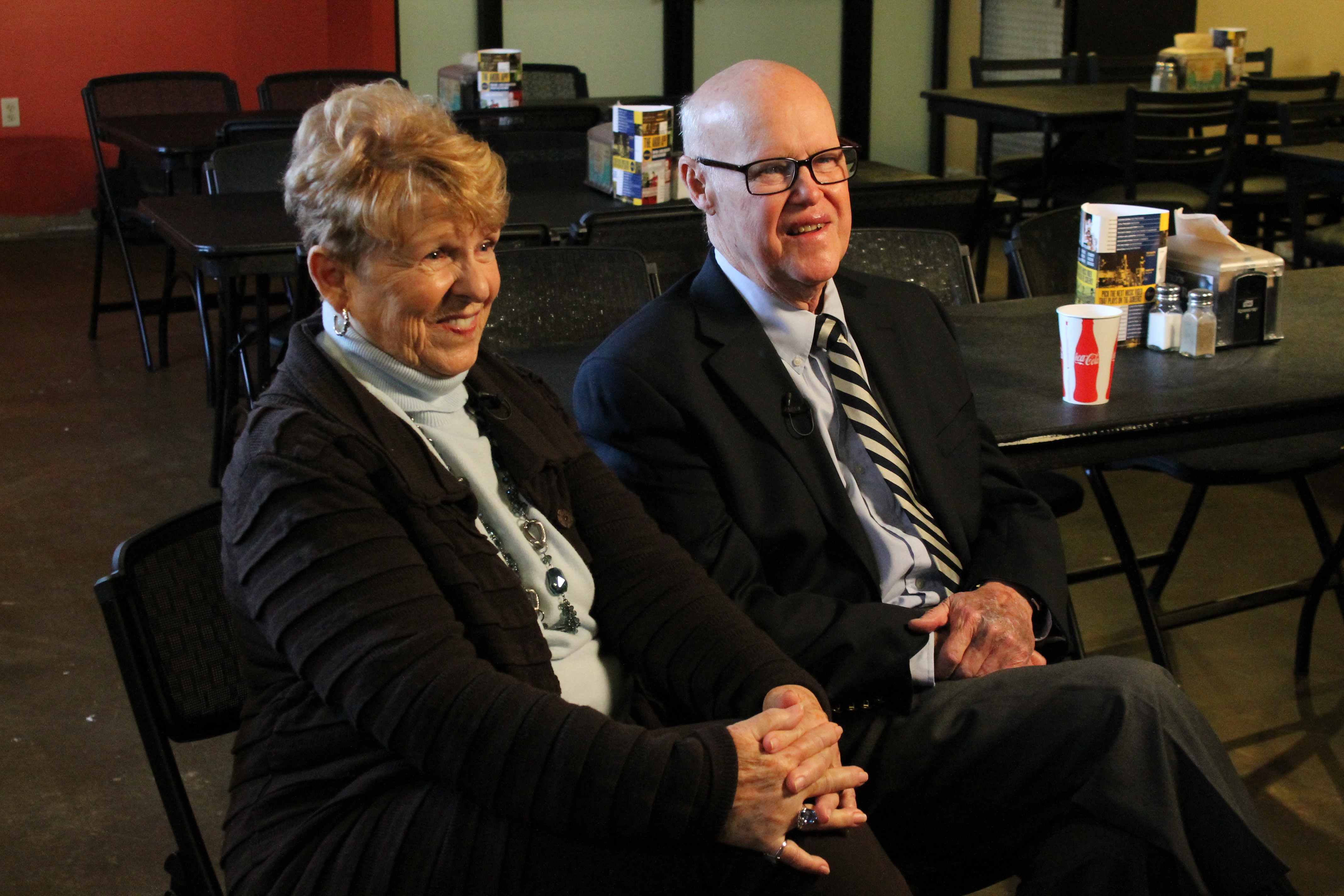 Looking  back on their time at UK, the couple said they are very proud that some of their grandchildren are now Wildcats too.
"Our daughter graduated, and our granddaughter is a sophomore at UK," Lou said. "Our grandson graduated last year. One of the most amazing parts for me is to see how it's grown and where it's grown."
"And of course it's totally different today," Ree said. "The cheerleaders today are entertainers you know. They're wonderful, fantastic but we didn't do all of that. Our skirts were pretty long ― didn't want to see above the knee!  And we would actually get up in the stadium, I mean up in the seating area. Our responsibility was to make the crowd move."
Lou still keeps in touch with many of his teammates. They call themselves "Bear's Boys," and they meet annually to catch up.
After 57 years of marriage, the couple who attended UK throughout the Bear Bryant and Adolph Rupp eras still think fondly of their university.
"We really prospered because of U of K," Lou said. "U of K is a special place."
In the spirit of Valentine's Day, share how much you love your university with your Facebook friends and you could win an iPad!
UK's Office of Undergraduate Admission is sponsoring the "Share the UK Love" contest today on Valentine's Day, asking currently enrolled, full-time UK students to share their status on Facebook or tweet why they love UK on Valentine's Day.
Click here for information on participating.