by Nathan Owen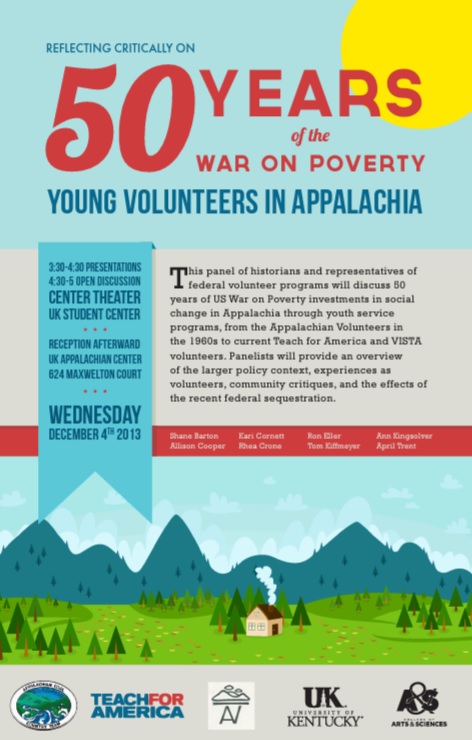 (Dec. 2, 2013) —  Youth volunteer programs in the "War on Poverty" will be examined at a panel discussion sponsored by the University of Kentucky Appalachian Center.
The panel will reflect critically on 50 years of the War on Poverty and the youth volunteer programs in Appalachia funded through those policies. The discussion will take place at 3:30 p.m. Wednesday, Dec. 4, at the Center Theater in the UK Student Center. The event is free and open to the public.
The panelists will provide short opening presentations, to be followed by an open discussion. Historians and representatives of federal volunteer programs will discuss a half-century of investments in social change in Appalachia through youth service programs from the Appalachian Volunteers in the 1960s to the current Teach for America and VISTA volunteers, community critiques, and the effects of the recent federal sequestration. 
The panel will be moderated by Ann Kingsolver, director of the Appalachian Center, and will include historian Tom Kiffmeyer, April Trent, Ron Eller, Kari Cornett and current VISTAs and alumni from the region.
Kiffmeyer, author of "Reformers to Radicals: The Appalachian Volunteers and the War on Poverty," will be discussing the early days of volunteer programs in the region. Trent, director of the Appalachian Coal Country Team (ACCT) will be talking about the work of the ACCT in the Appalachian region and how the sequestration has affected volunteer efforts through VISTA. 
There will also be three ACCT members on hand to speak about their experiences in the region and how being VISTA volunteers has shaped both their personal and professional decisions. Teach for America representative Kari Cornett will be on the panel to discuss volunteers' work in Floyd County, Kentucky. UK historian Ron Eller, author of "Uneven Ground: Appalachia Since 1945," will provide context on the past 50 years of U.S. War on Poverty policies in Appalachia, drawing on his extensive research and work with organizations in the region.
The UK Appalachian Center works to strengthen relationships between the colleges at the University of Kentucky and the communities in the 54 Appalachian counties of Kentucky by creating community partnerships in collaborative projects documenting and addressing the region's particular contributions and challenges in a global context. For more information visit the center online at http://appalachiancenter.as.uky.edu or contact Shane Barton at shane.barton@uky.edu.