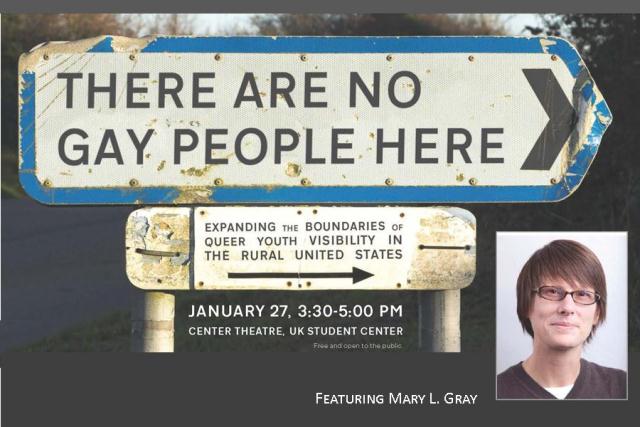 By Sarah Geegan
Author and communication researcher Mary L. Gray will discuss how lesbian, gay, bisexual, transgender and questioning (LGBTQ) youth construct spaces for fashioning their emerging sexual identities, in the first lecture of this semester's "Place Matters" series, sponsored by the University of Kentucky Appalachian Center, on Friday, Jan. 27. 
The lecture will begin at 3:30 p.m., in the Center Theatre at the UK Student Center, with a reception to follow at the UK Appalachian Center.
After Gray's lecture, there will be a screening of four short films about growing up gay in Eastern Kentucky, beginning at 6:30 p.m. in the William T. Young Library Auditorium. The films, produced by the Appalachian Media Institute (AMI), convey the significance of family, community, conflict, support and free expression as the filmmakers address sexual identity in rural Kentucky. The filmmakers will discuss their pieces after the showing.
Gray, assistant professor at Indiana University-Bloomington in the Department of Communication and Culture, specializes in examining how LGBTQ youth use digital media to combat marginalization. She recently conducted studies in rural Kentucky to determine the effects that rural environments have upon LGBTQ citizens.
Gray received the 2009 Ruth Benedict Prize in the category of "Outstanding Monologue," for her work on her 2009 book, "Out in the Country: Youth, Media, and Queer Visibility in Rural America." This award acknowledges excellence in a scholarly book written in an anthropological perspective about a topic that engages issues and theoretical perspectives relevant to LGBTQ studies.
Gray's book conveys stories from young people of varied sexual orientations as they develop their identities in rural parts of the country, areas that most scholars overlook when focusing on LGBTQ politics or culture. The book also explores what it means to be "queer" through media constructions. Her talk will discuss how LGBTQ youth join together in places ranging from schools, public venues and the internet to construct spaces for fashioning their emerging LGBTQ identities.
"We are very excited to have Dr. Gray contribute to this lecture series," said Ann Kingsolver, director of Appalachian Studies. "Her research furthers conversations about identity, diversity, place, community, agency and belonging in Appalachia."
The Place Matters lecture series and associated events explore the ways in which identity, social action, cultural expression and conceptualization of both the world and home are connected to place. The lecturers and artists in the Spring 2012 "Place Matters" series will challenge their audicenes to ground their understandings of Appalachia and the world differently. 
A full list of Place Matters events can be found at http://www.appalachiancenter.org/placematters