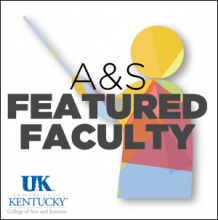 At the beginning of the Fall 2011 semester, we met with all of the new faculty hires in the College of Arts and Sciences. This series of podcasts introduces them and their research interests. Heather Worne is an assistant professor in the Department of Anthropology. Worne's specialty is bioarchaeology and, in particular, she researches issues of community health, warfare, and agricultural sedentism in prehistoric times. Previously, Worne has focused on the late prehistoric period in the Middle Cumberland region of Tennessee, and she hopes to collaborate with other archaeologists at UK to expand her research into areas of Kentucky.  
This work is licensed under a
Creative Commons Attribution-NonCommercial-ShareAlike 3.0 Unported License
.