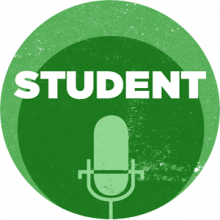 The Presidential debates are over now but a couple of weeks ago University of Kentucky student Patrick O'Dowd had the chance to attend 2012's one and only Vice Presidential debate. Held at Kentucky's own Centre College in Danville, he was able to experience what many only get to see on television every four years.

O'Dowd began his undergraduate education as a political science major but is now about to graduate with a degree in English. The opportunity to attend the debate came after a summer spent interning for the local alt-weekly newspaper, Ace Weekly, where he spent his time both writing and running their website. O'Dowd's press pass allowed him extensive access to the debate grounds and to those there representing both of the campaigns. In this podcast, he walks us through his experience and gives listeners a chance to look behind the red, white, and blue curtain of national American politics.
This podcast was produced by Patrick O'Dowd.

This work is licensed under a Creative Commons Attribution-NonCommercial-ShareAlike 3.0 Unported License.