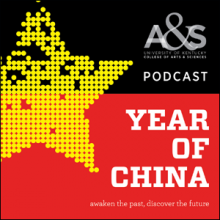 Ron Pen, a professor in the UK School of Music, discussed how Appalachian music unities people and place, and how the styles brought to the region by its immigrant residents combined and generated several new musical genres, such as swing, bluegrass, rockabilly, and contry. Music creates a bond that binds individuals as shared community and creates a society based on values rooted to identiy and place. Pen referenced the visual imagery and landscape of Appalachia to describe various musical sounds that have been passed down through generations in the region. He combined these two notions to reflect how music creates identity and defines a region surrounded by industrialization and development issues. 
This podcast is a recording of his lecture on May 21st, 2012, at Shanghai University. The session was part of the Symposium on Globalization, Identity, and Cultural Diversity. 
Produced by Cheyenne Hohman.

This work is licensed under a Creative Commons Attribution-NonCommercial-ShareAlike 3.0 Unported License.