By Victoria Dekle and Brian Connors Manke
Rachael Hoy might be a graduate student in English, but right now her brain is more focused on mapping than sentence fragments.
As co-editor of "disClosure," the graduate student-run journal associated with the Committee on Social Theory, Rachael is busy preparing the 2014 edition of the journal that will examine mapping within current social theory.
"I have just always had a fascination with space in novels," she said.
"It's interesting how space is manipulated for characters, by authors, to rewrite the way that things exist or to show the problems with the way that things exist."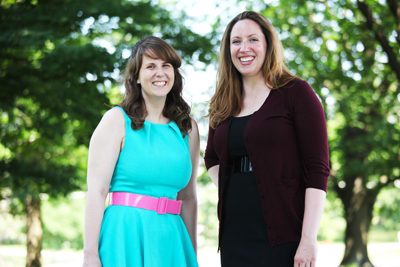 Hoy's co-editor is Christina Williams, another Ph.D. student in the Department of English. Williams is also interested in the ways authors use space to reflect large social changes in their work.
They were both drawn to coursework through the Committee on Social Theory because they realized interdisciplinary opportunities are important to their discipline of English. The social theory coursework provides a medium for students in all fields at UK to reach out to individuals with other knowledge and other perspectives who wish to examine the same processes in the world.
Another very unique aspect about the mapping course Hoy and Williams took – it was co-taught by four faculty members inside of the College of Arts & Sciences.
"One of the class faculty leaders is Jeremy Crampton, who is in the Department of Geography, and we started the course by talking about, well, what is a map?" said Jenny Rice, an assistant professor in Writing, Rhetoric and Digital Studies and another of the co-faculty members for the course.
"And most people do think, well, I know what a map is. If you think of it even broader than just a map of a space, a map is something that lays over a very undifferentiated area otherwise and tells you what to look at, tells you what you're seeing," Rice added.
Crampton said the structure isn't restricted to only benefitting the students. "No one has a monopoly on good ideas," he said. "As a proponent of collaborative work I was excited to teach a seminar with faculty from different disciplines."
With the varying perspectives, others took note of the tangible difference at work. "There was an openness to new ideas and an energy in class discussions that are unusual in courses where everyone comes from the same discipline," said Susan Larson, associate professor in the Department of Hispanic Studies. Jeff Peters, a faculty member in in the Department of Modern & Classical Languages, Literatures & Cultures and the Division Director of French and Italian Studies rounded out the faculty.
"I have never taught a course like this where we have four different interdisciplinary perspectives on a single subject. And, the benefit of that, especially for graduate students, is that you realize that lots of different people are looking at this subject right now," Rice said. "Usually in the social theory seminars, it is a very timely topic, and right now mapping is really popular in terms of what people are doing in their research.  As much I loved my graduate training, we didn't have anything quite like this where we got this level of engagement with scholars, and that is just so unique for graduate students here," she added.
For Hoy and Williams, participating in a course with graduate students from other areas has helped them approach their own subject matter in a new light.
"With literature it's always good to look at connections with other disciplines," said Williams. "The social theory certificate is a really nice way to dip my toe into the waters," said Williams.
"At this stage of our careers, we tend to become so specialized that we isolate ourselves from other disciplines; the social theory seminar provides a place for us to engage with the way other disciplines work and think, enriching the work we do by delving beyond the surface of interdisciplinarity," Hoy said.
Plus, those pesky sentence fragments aren't going anywhere.

Photo: Rachael Hoy (left) and Christina Williams