By Sarah Geegan
English professor Erik Reece and Biology professor James Krupa recently released a book that brings to life the history and ecology of one of Kentucky's most important natural landscapes —the Robinson Forest in eastern Kentucky.
"The Embattled Wilderness" depicts the fourteen thousand acres of diverse forest region-- a haven of biological richness-- as endangered by the ever-expanding desert created by mountaintop removal mining. The authors, alternating chapters that focus on the natural and cultural history of the forest, combine their professional knowledge of the area to persuasively appeal for its protection.
Erik Reece, an environmental writer,  explains the threats to the Robinson forest and highlights new ways of thinking about its value. James Krupa, a naturalist and evolutionary biologist, weaves an engaging record of the wood rats and darters, lichens and maples, centipedes and salamanders that make up the forest's ecosystem.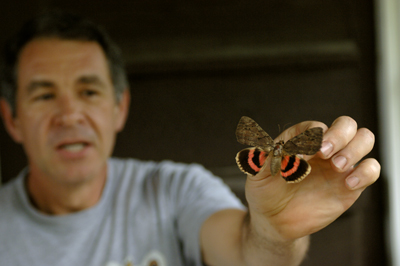 Krupa said that the authors focused on this subject because Robinison Forest remains one of the last and largest forests in Eastern Kentucky that has not been drastically harmed by strip mining.
"Because Robinson Forest is completely surrounded by mining, we felt an urgency to ask and answer the question: Why should this forest be saved?" Reece said. "So that's what we set out to do. It's easy to justify the cash value of the coal beneath Robinson Forest, but much harder, in this country, to justify not mining the forest for that coal. We feel that Robinson Forest is one of UK's greatest assets. It is a place that has much to teach us about conservation, interdependence, humility, beauty and sustainability."
Kentucky author and cultural icon Wendell Berry provided a foreword for the book.
"No place, no building or garden or park or farm or natural wonder, is any longer safe from destruction. This is because, by the determination of industry, the connivance of our institutions, and with the tacit consent evidently of most people, every place or thing has become merely a property exactly equaled by its market price. The inestimable service of this book, then, is to restore to a renowned and much-loved place its membership, both natural and human, and its history."—from the foreword by Wendell Berry.
As their work speaks to global issues of environmental quality, pedagogy and cultural values, the authors expect it to appeal to audiences interested in both the sciences and the humanities.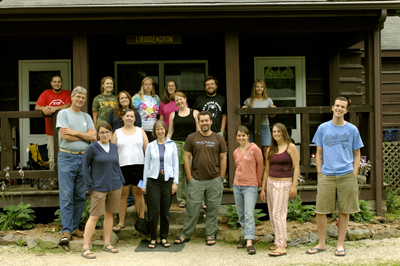 "A famous conservationist, Gifford Pinchot, Chief Forester for President Theodore Roosevelt, wrote in 1910, 'Unless we practice conservation, those who come after us will have to pay the price of misery, degradation, and failure for the progress and prosperity of our day.'" Chair of the UK Biology Department Vincent Cassone said. "Yet, we have seen over these past 100 years more than 100 species extinct and more land laid waste to "progress and prosperity". Let's hope The Embattled Forest by Eric Reece and Jim Krupa opens at least a few eyes to the urgency of preserving our wild heritage in Kentucky and elsewhere for 'those who come after us.'"
The authors will hold a book signing at the Morris Book Shop on Friday, May 10. at 6 p.m.
"The great naturalist Aldo Leopold famously said we should think like a mountain," Reece said. "I propose that Robinson Forest shows us a way to think like a forest."
MEDIA CONTACT: Sarah Geegan, (859) 257-5365; sarah.geegan@uky.edu
Photos by Lee Thomas taken during the Summer Environmental Writing Program at Robinson Forest. Top - Krupa with butterfly. Bottom - Reece (front row center) with writing workshop.
Follow this link to read Tom Eblen's review of the book in the Lexington Herald Leader, May 7, 2013.