by Mallory Powell
(March 6, 2014) -- Nearly 700 researchers, students, policymakers and community members will gather at the Lexington Convention Center March 27 to share research, mentor junior faculty, and enhance collaborations in clinical and translational science, with special focus on addressing health disparities in Appalachia. The 9th Annual Spring Conference and 4th Annual Appalachian Translational Research Network (ATRN) Summit will be hosted by the University of Kentucky Center for Clinical and Translational Science (CCTS).
"This year's theme will be health disparities, which fits well with CCTS efforts to boost research in many areas but with an eye to the needs of the people of Appalachia," said Dr. Philip Kern, director of the CCTS.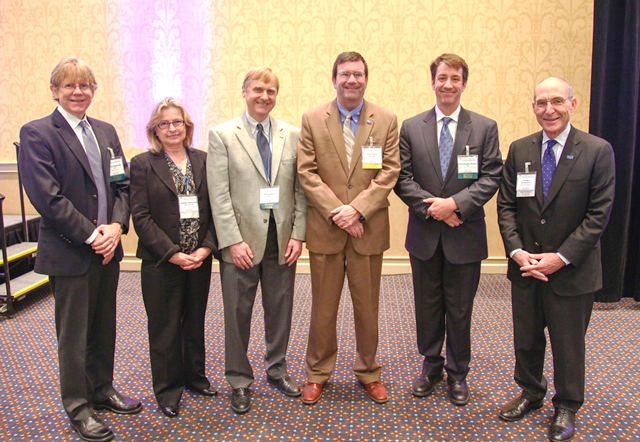 The conference has grown every year and is now held in conjunction with the Research Days of the Colleges of Dentistry, Health Sciences, and Public Health, as well as the 33rd Annual Symposium in Women's Health and Reproductive Science and the 30th Annual Bluegrass Society for Neuroscience Research Day. In addition to students and faculty from across UK's campus, ATRN partner institutions will also participate, including Marshall University, The Ohio State University, Ohio University, the University of Cincinnati, the University of Pikeville, and West Virginia University.
The conference constitutes a unique, multidisciplinary showcase of research and collaboration, with the scope and expertise of a national research conference but the rare conveniences of being free and within walking distance of UK's campus. Approximately 300 research talks, podium, or poster presentations will be featured.
"UK researchers travel the world giving insights on their scientific findings to their colleagues. This conference showcases our science locally, bringing together our very best researchers across multiple disciplines," said Dr. Jane Lowe, assistant provost of CCTS.
Furthermore, providing a venue for senior and junior researchers along with graduate students, community groups, and partnering academic institutions creates an opportune environment for initiating and enhancing collaborations across campus and between institutions and national stakeholders.  This is a goal not only of the conference but also of the CCTS in general.
"CCTS is an umbrella infrastructure and sponsor for team science that can catalyze innovation," said Lowe. "We've always intended for the conference to be a platform for generating collaborations."
One example of a collaboration resulting from a CCTS conference is that of Dr. Ken Campbell and Dr. Charles Hoopes. At the 2007 CCTS conference, Campbell, a physiologist, gave a talk about his research on heart failure in rats. At the end of his talk, a UK cardiothoracic surgeon named Dr. Mark Bonnell suggested that Campbell might also be interested in examining tissue from humans who were getting heart transplants. Within six months, they had submitted an application to the Institutional Review Board and began conducting joint research examining heart failure in UK patients. When Dr. Bonnell left UK in 2010, he arranged for Campbell to collaborate with Hoopes, the incoming Director of Transplantation and Organ Failure. Drs. Hoopes and Campbell have been working together ever since and, together with Premi Haynes, a graduate student in physiology, have recently published a high impact paper in the Journal of Molecular and Cellular Cardiology. The research also sparked Campbell's involvement with banking of human tissue, and he now directs the CCTS biospecimen core.
This year's keynote speaker will be Dr. Irene Dankwa-Mullan, the acting director and medical officer of the Division of Scientific Programs at the National Institute on Minority Health and Health Disparities (NIMHD). Her clinical expertise and extensive experience in developing partnerships to reduce health disparities will complement the research presented throughout the day. A hallmark of the conference is that the CCTS leadership always facilitates a broader campus itinerary for the keynote speakers in addition to the conference, and Dankwa-Mullan will also be meeting with investigators with research interests in health disparities.
"We try to maximize the expertise of keynote speakers during their visits by considering who on campus would benefit from hearing from and networking with them," said Lowe.
The opportunity to engage with diverse, high level researchers from the UK community and beyond is just one element of career development and mentorship for graduate students and junior faculty who participate in the conference. They also receive coaching and feedback on their poster and podium presentations, guidance on best practices in research, and information about funding and collaboration opportunities. Traning the next generation of clinical and translational researchers is a primary objective of the CCTS.
"The research development and career development aspects of the conference are valuable to clinical and translational researchers regardless of their college or specific area of health research," said Dr. Tom Kelly, director of the Teaching, Education, and Mentoring (TEAM) Core of the CCTS.
Simultaneous with the conference is the 4th Annual Summit of the Appalachian Translational Research Network (ATRN), which works to address the significant health challenges of Appalachia through collaborations to accelerate the translation of scientific discoveries into health improvements for the region. The Appalachian region, which spans state boundaries, experiences elevated rates of cancer, heart disease, stroke, lung cancer, obesity diabetes, chronic obstructive pulmonary disease, accidental death, motor vehicle accidents, oral/dental health conditions, and premature death.
"The whole concept of the ATRN is that Appalachia is very much its own environment and culture. It has its own unique characteristics and, as we're finding out, it has its own health and healthcare related issues," said Dr. Patrick Kitzman, director of the ATRN at UK.
The ATRN directors of each partnering institution participate in a monthly conference call and intermittent site visits, but the annual summit provides an opportunity for them convene face-to-face for discussions about current projects and the continually evolving identity of the ATRN.
"The issues of health disparities in Appalachia are so large that no single institution can address them alone," said Kitzman. " And if we really want to be a collaborative network, we can't do it by telephone or email. Ideas happen when you come together and discuss."
The deadline for registering for the conference is March 20, 2014. To register or find more information, including conference itineraries, click here.