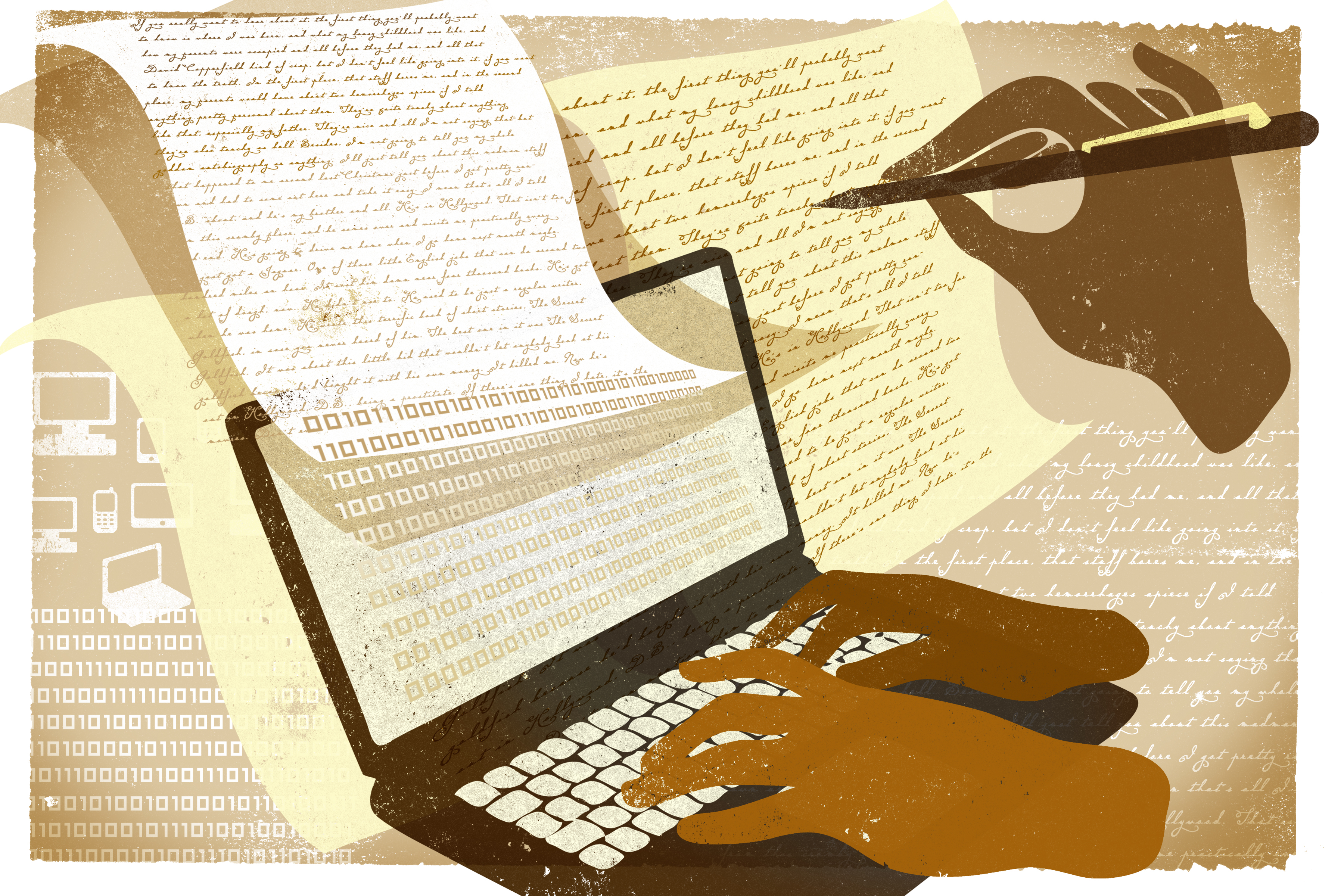 By Erin Holaday Ziegler
The University of Kentucky's revamped UK Core Composition and Communication classes combine historically united concepts, while giving students the interactive skills they need for the future.
"This is the only program in the United States that we're aware of in which communication faculty from another department —  actually, another college  —  and writing faculty are collaborating on a joint curriculum," said Roxanne Mountford, director of the Division of Writing, Rhetoric and Digital Media in the College of Arts and Sciences. 
UK sophomore Jake Allgeier will remember his Composition and Communication classes (CIS 110 and 111 or WRD 110 and 111) for years to come.
The civil engineering student didn't know what to expect when he registered, but a final project interviewing members of a community that he was not a part of for communication professor Brandi Frisby's Composition and Communication class had a lasting impact on the way Allgeier sees the world.
"My partner and I interviewed many individuals in Lexington's homeless community," Allgeier explained. "This had an astounding impact on me as an individual … it helped me to gain perspective on how privileged a life I live. I think I will remember this assignment for a very long time."
Allgeier also gained confidence with presentation and public speaking in Frisby's class, which were not skills he thought about when registering.
"My public speaking ability has improved vastly, and I am no longer nervous when giving a presentation or speaking to a crowd," Allgeier said. "My ability to work within and lead groups has improved as well."
For a concept that seems to make so much sense, combining writing and communication at UK took a while to accomplish.
"It was kind of like wilderness camping," said Mountford. "We were inventing as we went along. It was incredibly exciting and incredibly hard, because we didn't know each other's language."
The original general education steering committee was just finishing its work when Mountford was hired to work with the Writing Program in 2008; UK Core's four learning outcomes had been established, and Mountford was invited to help with learning outcome number two: assisting students with their written, oral and visual communication skills — both as producers and consumers of information.
According to Mountford, UK's writing and communication faculty were disconnected from the beginning. According to Deanna Sellnow, professor and director of the Division of Instructional Communication and undergraduate studies in the Department of Communication and a member of the original steering committee, the original UK Core structure called for a Writing I class "that would focus primarily on writing with an introduction to oral and visual communication, followed by a Communication II course that would focus primarily on oral communication with additional attention to writing and visual communication."
"All sides were concerned," Mountford said. "How would students progress from an introductory writing course to advanced? How will we do everything in one semester?  And how will we connect with communication?"
In the College of Communication and Information Studies, Sellnow was excited about the integrated Communication II course, but also concerned about securing the funding needed to launch it fully.
"Several of us began to think about putting these two areas together," Mountford said. "Why couldn't we put the foundations of writing, speaking and visuals together in the first semester and then build on them in the next class?"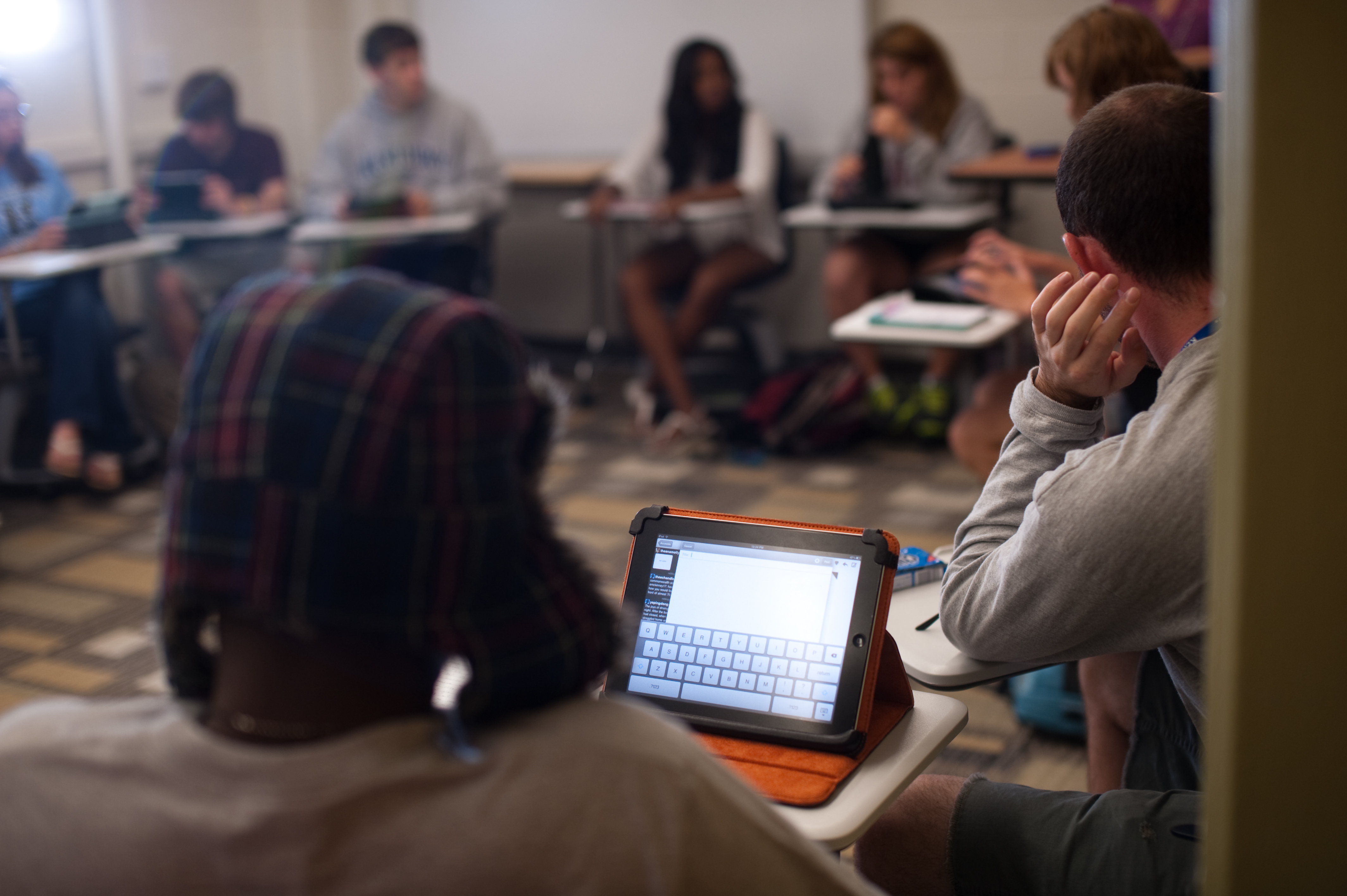 And so Composition and Communication was born. The Division of Writing, Rhetoric, and Digital Media in the College of Arts & Sciences and the Division of Instructional Communication in the College of Communications and Information Studies combined their teaching resources, and classes now include both concepts in two sections.
"Our programming is quite innovative," said Mountford. "While many universities have put writing and speaking and visual communication together in one course sequence, it's usually been done by faculty in English and writing. And they haven't always given visuals the emphasis that we have here." 
"Similarly," said Sellnow, "integrated communication courses offer all forms in one course housed within a department of communication. What makes us unique is that we are doing so not only across departments, but across colleges."
"Combining writing and communication has always made sense to me, with my background," said Amy Gaffney, assistant professor of communication who also teaches Composition and Communication I and II. "Basically you're organizing support for a bigger idea. Having the concepts tied together helps students to learn a deeper value."
Communication and writing were originally joined together in 20th century through rhetoric, according to Mountford. "We share this ancient field and have some of the same values about how to approach the task of teaching writing, oral and visual communication as a process … not as a finished product," she said. "We all have the same goals here."
Not only will students be prepared to write for future classes; they will be prepared to write for life.
"We've always struggled with this issue in writing classes," said Mountford. "Because the immediate need was for students to have to write for other classes, writing instructors had the tendency to lose sight of the fact that writing was part of the larger communication process that humans use."
Communication comes in many forms: from writing and speaking, to video and texting. "By putting these modalities back together, we show students that these are all on a continuum, and you get to choose," explained Mountford.
The two-semester class culminates with students solving a community problem in small groups and then choosing how to push that information out to public.
Sophomore nursing major Allison Betulius designed a website for her final project. "I found it really interesting and fun to figure out how to get our information across to an audience online," she said. "It was challenging, but something that I had never done before."
According to Frisby, over 90 percent of students came back from freshman year during the pilot to finish the sequence. "They wanted to come back, and most of them chose the same instructor," she said. "Students recognize the skills and how they go together."
That sentiment — the idea of preparing students with the critical thinking skills they need to succeed in a competitive global economy — is the basis for UK's new general education requirements, also known as UKCore.
UKCore, which is fully integrated as of the fall 2011 semester, is a course of study that all students, regardless of major, must complete, replacing the University Studies Program (USP) requirements that UK had in place since the mid-1980s.
Those core classes embody what the university believes every student will need to not only compete in a 21st century economy, but also participate in democratic self-governance and live a life of purpose and meaning.
"You get to see a lot of growth in these classes," said Gaffney. "Students gain a lot of confidence; students who didn't want to be in class are now are talking to me. They understand the value of the skills that they've gained."