By Sarah Geegan, Seth Riker
UK students Anil Erol, Holly Poore and Heidi Vollrath will conduct research that takes them across the globe this summer.
Education Abroad at UK (EA) and the Office of Undergraduate Research (UGR) awarded the three UK students with an Undergraduate Research Abroad Scholarship (UGRAS) to support their international independent research projects during the summer session. The scholarships are the result of a new collaboration between EA and UGR to support experienced undergraduate researchers as they explore their academic interests abroad ­– with the support of their UK faculty mentors. 
"Research has no boundaries," Diane Snow, director of UK's Office of Undergraduate Research, said. "A researcher's interests can take them across this country, or across the globe to find answers."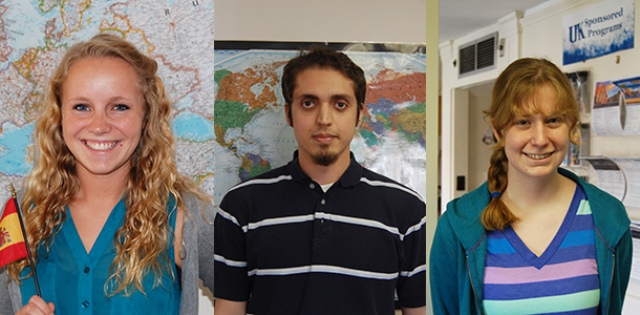 Anil Erol is a mechanical engineering student, who will complete his project, Determination of Permeable & Thermal Dispersion in a Porus Medium, in Turkey with the support of Assistant Professor Haluk Karaca.
Holly Poore is a psychology student, who will complete her project, Improving Learning from Text: Cognitive Factors in Knowledge Acquisition Through Reading, in the Netherlands with the support of Professor Richard Milich.
Heidi Vollrath is a management and pre-vet student, who will complete her project, Primates are All Brain and No Brawn: An Investigation into tissue trade-offs, in Spain with the support of Assistant Professor Magdalena Muchlinski.
"While these international projects will enhance the student's research capacity here at UK, their UK mentor's research program will also be enhanced," Snow said.
The institutional benefit of undergraduate research is only a part of why Anthony Ogden, director of Education Abroad at UK, deems the scholarships a smart investment. 
"As a research 1 institution, we are investing in students to ensure they graduate with the knowledge and skills to engage with their discipline on the world stage," Ogden said. "Conducting research abroad will help students learn the demands and rigor of their field in a way they wouldn't at UK, or even in the U.S."
Ogden said that undergraduate students who participate in research abroad programs often go on to pursue graduate or professional degrees in their fields. These experiences not only foster necessary skills in a given field, but they also lay the foundation for a student's professional network.
The UGRAS awardees are planning to pursue their research after graduation as well.
Erol hopes to continue his research at the graduate level and one day teach mechanical engineering as a professor. Poore plans to pursue a doctorate in clinical psychology, and Vollrath knows her anatomy research project will help make her dream of becoming a veterinarian a reality. 
For more information visit the Undergraduate Research Abroad Scholarship website.