By Erin Holaday Ziegler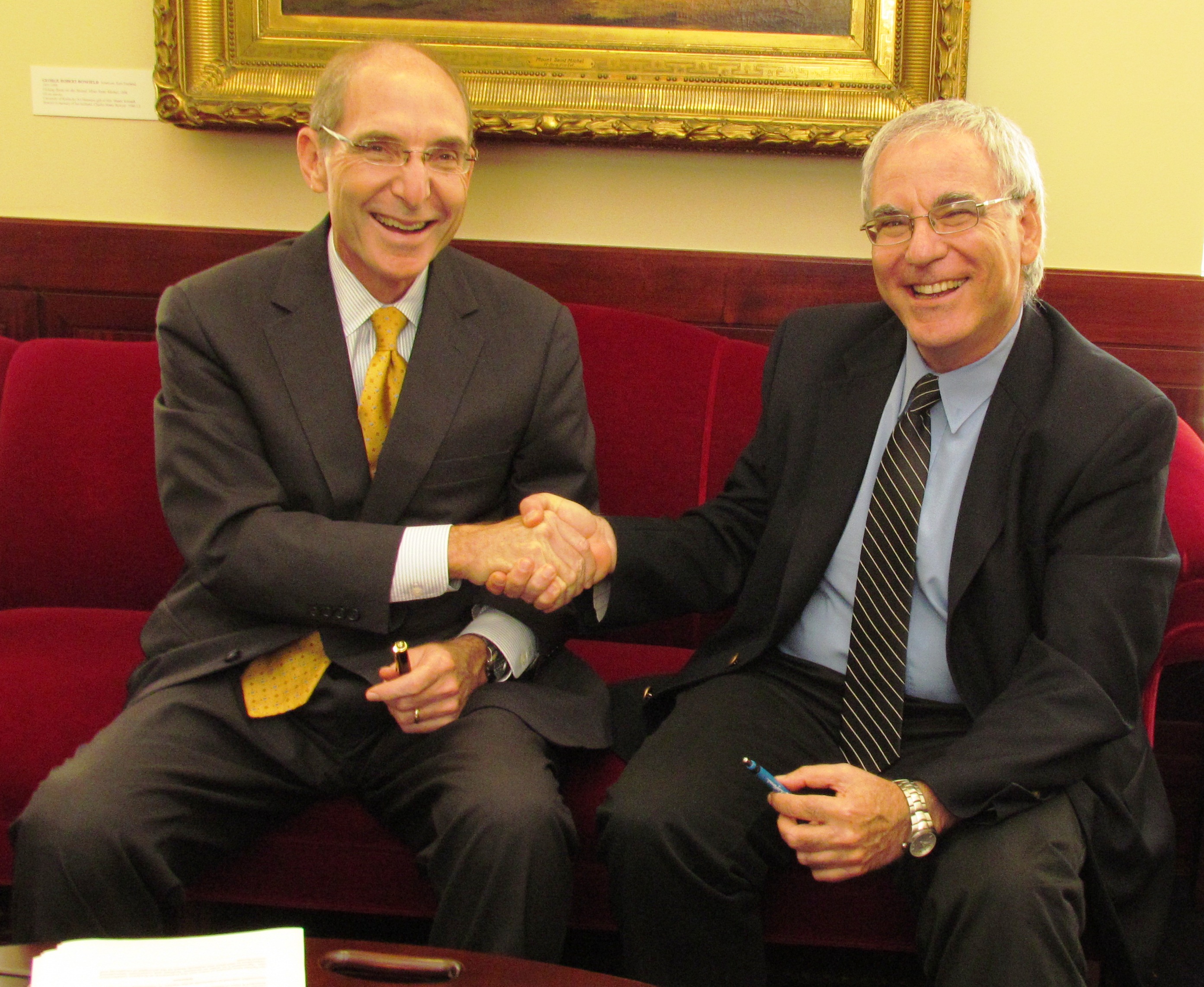 The University of Kentucky continues on its international course with a visit from University of Haifa Rector (Provost) David Faraggi this week.  While here, Faraggi signed a memorandum of understanding, or a general cooperation agreement, with President Eli Capilouto Monday, Sept. 12.
"The University of Kentucky is excited about the opportunity to partner with the University of Haifa," said Capilouto. "With the phenomenal advances in technology and industry, strategic collaborations between postsecondary institutions play an important role in a growing global economy."
This past June, a UK delegation including public health professors Douglas Scutchfield and Jim Holsinger and Associate Provost for International Programs Susan Carvalho traveled to Haifa in Israel to further a public health partnership and to explore broader opportunities for faculty and student collaboration.
The Haifa visit was based on a partnership that Scutchfield has with professor Shai Linn, dean of the College of Social Welfare and Health Sciences at the University of Haifa.
The visit was worthwhile, according to Carvalho. "We found quite a few potential areas of collaboration during our June trip," she said. "And shortly after our return, we learned that Dr. Faraggi would be visiting the U.S. and was interested in a reciprocal visit to Lexington." 
During his visit this week, Faraggi met with International Studies, Judaic Studies, Peace Studies and the Department of Physics & Astronomy within the College of Arts & Sciences; UK Education Abroad; the College of Public Health; College of Education; College of Social Work; the Gatton College of Business and Economics and its MBA program; and the Patterson School of Diplomacy and International Commerce.
"As we work to bring international work within the reach of all faculty and students, it makes sense to have a few comprehensive partnerships whose infrastructure we know and understand well," said Carvalho. "This is particularly important in unstable geographic regions, where we take particular precautions regarding student safety. Haifa's International School appears to offer that kind of infrastructure, so we look forward to finding the best ways to work together."
"The College of Arts and Sciences is eager to develop strong relationships with Haifa University," said Dean Mark Lawrence Kornbluh. "We look at Haifa as a place to send our students abroad during the summer and as a partner as we build a strong interdisciplinary Jewish Studies program." This fall, A&S welcomed Sophia Roberts, a new endowed professor in Jewish History, and the college has plans to develop a strong language program in Modern Hebrew as well.
University of Haifa's campus of 17,000 students runs along a Carmel Mountain ridge southeast of the city of Haifa and is surrounded by the Carmel National Park. The university was established in 1963 under the joint auspices of the Hebrew University of Jerusalem and the Haifa Municipality. In 1972, it gained academic accreditation as a separate institution from the Council for Higher Education.
Areas of potential collaboration with UK include work with Haifa's master's program in Peace and Conflict Management Studies; an Honors Program in Peace and Conflict Studies; hospital internships for medical students or residents; shadow-a-doctor programs for undergraduate students; semester-long internships designed for international students in social services, health services or education; doctoral student exchanges; rotations in the district health department in Nazareth for field placement; practicums for a Graduate Certificate in Global Health; and biennial Social Welfare and Health Sciences conferences in alternating locations.
Haifa is ambitiously pursuing international programming, according to Carvalho, with plans to offer 20 master's programs in English within five years, and 40 programs in English within 10 years.
"They are keenly interested in potential joint degrees and other forms of collaboration with us," Carvalho said.