Algerian Jews in France: My Summer Research Project
Summer 2014 Research Award recipient Emily VanMeter shares a few experiences from her time at the United States Holocaust Museum
I recently conducted a research project on Algerian Jews' immigration to France after the Algerian War of Independence, which spanned from 1954-62. Prior to the conflict, there were 140,000 Jews in Algeria, and by the end of the conflict, there were fewer than 5,000—Jewish life in Algeria was abolished completely in the 1970s. When Prof. Sophie Roberts made me aware of this situation, I was perplexed. The plight of these Jewish quasi-refugees seems to be completely overlooked by all, even Jewish historians.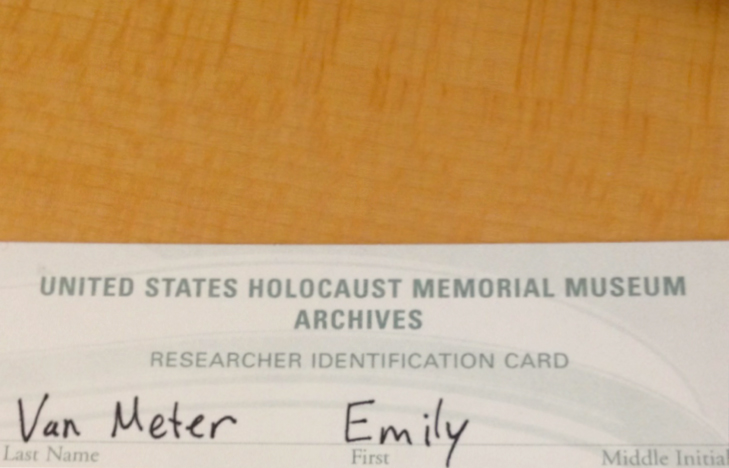 However, through my research, conducted just as much in French as in English, I learned that this was not always the case, but rather that there was a collective forgetting of the French population. This severing of ties from historical colonialism led to the neglect of Algerian immigrants as a whole, not just the Jewish population. African Jewry had a huge impact on French Jewish society despite these conditions, however. France is now the only state outside of Israel to have equal Ashkenazi and Sephardic populations. This merging of two previously separate Jewish identities has created a French-Algerian-Jewry within France, and this distinct identity perpetuates the Algerian Jewish heritage, even as Jews are no longer welcome in the Muslim state of modern Algeria.
Last semester, I formulated this idea completely unaware that one of my professors, Dr. Sadia Zoubir-Shaw of the French and Francophone Studies department, was actually Algerian, having immigrated to France after the War of Independence. I was able to meet with her and talk about the notions of religion/cultural identity in colonial Algeria and the roles that those identities might have had in the decision to leave. That was an amazing and informative few hours that gave me better context for beginning my project.
I was then, thanks to the research grant I received, able to study at the United States Holocaust Museum, using their archives and audio recordings to peruse documents and interviews that I might otherwise have not been able to access. It was amazing being able to go through roll after roll of microfilm and access their digital archives. Their research library is nothing short of impressive, and being able to experience first-hand the documents that I had read so much about made the context of conflict and decolonization so much more real to me. It was, to say the least, a life-changing experience, and definitely made me value historical research that much more.
Life on the Yiddish Farm
Summer Research Award recipient Jeremiah Brown gets a home-grown education in New York
I would like to begin this brief reflection by thanking the Jewish Studies department at the University of Kentucky for the financial aid that allowed me to participate in the Yiddish Farm program. I would also like to thank Dr. Raphael Finkel for bringing the program tomy attention as well as providing me with the opportunity to learn the poetic language of the Ashkenazic Jews.
Yiddish Farm was a truly unique experience. Although many immersive language programs exist, the chance to learn Yiddish in an immersive environment is seldom found outside of Hassidic communities, such as Kiryas Joel. Yiddish Farm is unique in that it brings together a wide variety of individuals all of whom have a passion for learning and speaking Yiddish. Although there are opportunities to learn Yiddish in a classroom environment, Yiddish Farm allows students to speak and use Yiddish in day to day interaction. Yiddish Farm allowed me to learn Yiddish from an entirely different perspective as well as develop an appreciation for Yiddish as a living and evolving language, not just the literary language of Sholem Aleichem or Isaac B. Singer.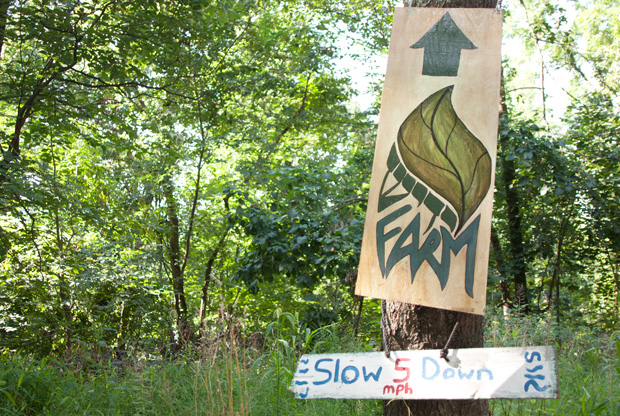 Located in Goshen, New York, Yiddish Farm offers not only language but also a chance to work and live in an immersive environment all while learning and using Yiddish. Growing up on a farm in rural Kentucky, I felt much more at ease in an agricultural environment. The farm grew wheat, garlic, as well as garden variety vegetables, all of which the students helped to grow and harvest. The program attracted a wide variety of students from many different places and backgrounds. The daily interaction we had with each other did not feel like students in a class together, but more like a small make-shift community. We all worked on a schedule that consisted of three work sites: Kitchen, Courtyard, and Field. Although the farm work was not the easiest, it provided us with an appreciation for the environment as well as the labor that goes into growing and harvesting crops. It also showed us that Yiddish is still a living language and can still be used for daily interaction from the home to the workplace.
The program is open to all that have an interest in learning and using Yiddish. Although I had studied Yiddish for two semesters prior to the program, the immersive environment allows even beginners to quickly become accustomed to and comfortable using Yiddish. Yiddish Farm allowed me the opportunity to learn Yiddish at a quick pace as well as retain what I learned due to the immersion aspect of the farm. I feel this once in a lifetime opportunity has greatly improved my Yiddish knowledge and ability, as well as giving me insight into Jewish cultural and religious customs and practices. I believe that the experience and knowledge I have acquired through the Yiddish Farm program will further benefit me in my independent studies on the Yiddish Language as well as Ashkenazic culture. I would highly recommend the program to anybody who also has an interest in learning Yiddish from a fast paced and hands-on approach. The program succeeds in not only teaching Yiddish to participants but also creating a community all connected by a passion for the Yiddish language. Although I will continue my studies in Yiddish, I feel that this has been the best opportunity to become comfortable speaking and using the language as a living language and not solely a literary one.