We are currently mired, at least here in the US, in a political and cultural milieu where truth, facts, and logic are not only ignored by many citizens and alleged leaders, but are actively resisted. (2)   This drives scientists especially crazy, as we are trained and wired to argue and act based on hard evidence and logic. Our efforts in this regard are wildly imperfect, but it is a universally agree upon ideal, and in our world, while facts can be modified and tested, they cannot be ignored or denied.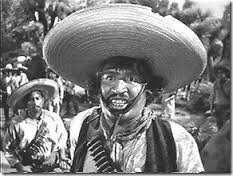 Alfonso Bedoya in the famous "no stinkin' badges" scene from the Treasure of the Sierra Madre.
For years there has been a great deal of (justified) hand-wringing over how scientists can and should communicate with the general public--how to translate complex and specialized concepts into understandable terms, without oversimplifying or trivializing them. These concerns have accelerated lately with respect to the deliberate obfuscation and politicization of issues such as climate change, sea-level rise, and environmental protection.